Zac Efron hair, hairstyles and haircuts - Guide with Pictures
04-16-2014, 01:35 PM
Post: #1
Jurgen
Super Moderator


Posts: 785
Joined: May 2013
Zac Efron hair, hairstyles and haircuts - Guide with Pictures
This is our guide on Zac Efron's hair, hairstyles and haircuts, from past to 2014. Efron has dark blond wavy hair which he keeps short to a medium length. Zac Efron's hairstyles have varied over the years going from a side fringe to different messy hairstyles.
Zac Efron hair, hairstyle and haircut pictures
Below is the range of all his hair styles over the years. You can tell that his hair has decreased in length over the years. Zac Efron started his career young with long hair & has slowly cut his hair shorter as he grew older.
Zac Efron started in Hollywood with a mop top although before that he had a bobcut too
the fringe he had with his mop top is what made Efron a teen idol. Very similar to
Justin Bieber's hairstyle
& how he also became a teen idol with his fringe.
Zac Efron started growing his mop top to a long side fringe similar to an EMO hairstyle. He kept the hair on the top of his head longer & kept the side fringe covering most of his forehead.
The side part as a regular side part or a
side swept
has also been a hairstyle of Zac Efron. A
side part
or swept is a classic style for men & it would change Efron's image to a more serious one.
When he got tired of the side fringe & classic side part, Zac then kept the side combing but did a modern side part with a messy look.
The brush up is a 2014
trendy mens hairstyle
that was made popular by guys like Justin Bieber, Zayn Malik & Zac Efron. By 2009 Zac Efron had enough of the side part & wanted to experiment with messy hairstyle & the
brush up hairstyle
.
Remember that to get a brush up style you need to use a
good hair dryer
that does not burn your hair - see further down in this guide for our recommended products including the hair dryer.
He has also sported a
quiff style
with messy tousled locks as part of his male fashion repertoire.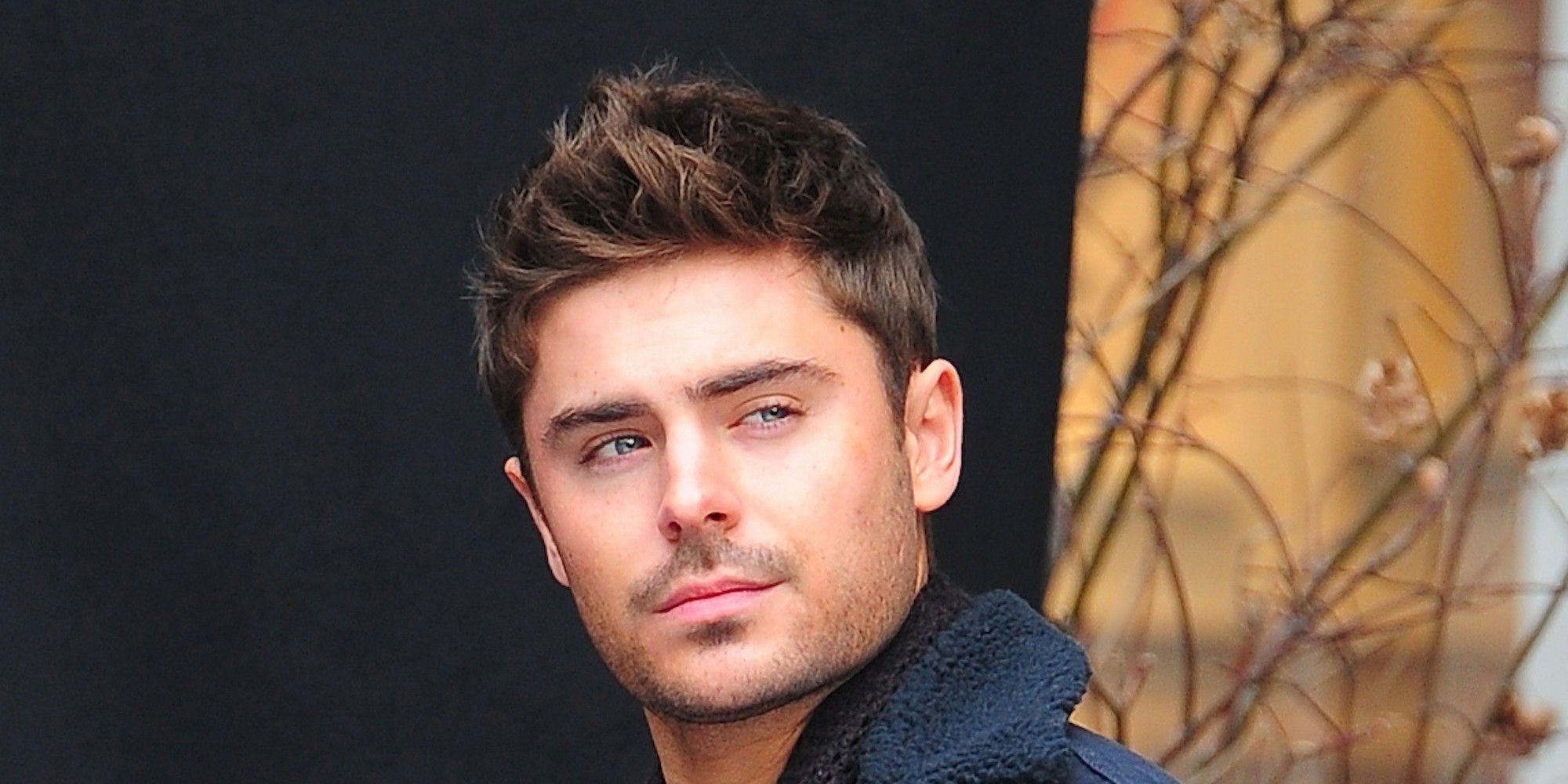 One of Zac Efron's favorite hairstyles is simply having his hair messy! this style keeps his youthful looks & takes advantage of his high hair density. The
messy hair
is kept at medium length for more bulk.
He also played with a short shaggy haircut, keeping his 'out of bed' look sharp.
THIS STYLE GUIDE CONTINUES BELOW
04-16-2014, 01:35 PM
Post: #2
Jurgen
Super Moderator


Posts: 785
Joined: May 2013
RE: Zac Efron hair, hairstyles and haircuts - Guide with Pictures
Efron surprised everyone in 2013 when he got a haircut so he would sport short hair. Even more interesting is that his haircut was an
Ivy League haircut
so it gave him a very clean & classic look.
Las but not least, Zac Efron's hair has also been long, at about
jaw length
. There are rumours that Zac Efron will have a long hairstyle in 2014 but that means that he needs at least an extra year to reach a long length. He has nice hair that is easy to style so he is an example of a man who can grow some good locks!
You will need several hair products to be able to recreate the hairstyles of Zac Efron. The products listed below are the ones we recommended for each of the styles in this list so you can have peace of mind that they work good
Before the list let me mention that Zac Efron quite likely uses a hair straightener to keep his hair straightened for his side fringe. He has naturally wavy hair & it is impossible to have such straight fringes without altering the hair with a straightening iron, so you will also find our recommended hair straightener listed below so that you can also recreate a side fringe if you don't have straight hair.
Recommended products
Click each link to learn more about the product & even buy it if you want - the vendors listed are the ones our forum members have used in the past to buy each of the linked products.
-
This hair wax
: get this wax for the messy styles, shaggy haircut & brush up hairstyle. The hair wax in the link is perfect for those styles.
-
This hair wax
: get this wax for the quiff style & if you really want to create a lot of definition in your messy styles. Also use this wax for styling the Ivy League & really shaping it.
-
This pomade
: get this pomade for the side part styles - both regular side part, side swept & messy side part.
-
This hair gel
: get this hair gel for styling the Ivy League haircut & creating texture with a dry look.
-
This styling cream
: get this styling cream for long hair with or without a side fringe. DO also use this styling cream for a side fringe with short or medium length hair. It comes in a bit bottle & will last you months.
-
This hair straightener
: get this hair straightener for a high-quality hair straightener that will last you years! for men, this hair straightener is the best one you can get.
-
This hair dryer
: get this hair dryer for the best hair dryer you can get that will not damage your hair. It is a high priced dryer but it is of excellent value & will also last you years.
-
The Men's Hair Book
: if you don't have this book, you must then get it because this book is the only reference you will need in your life to have great hair. It is the encyclopedia of hair & we recommend this book 100% because it is 100% useful.
04-17-2014, 05:06 PM
Post: #3
RE: Zac Efron hair, hairstyles and haircuts - Guide with Pictures
Jurgen, great style guide on Zac Efron!

As you correctly pointed out, a properly styled fringe on an average looking kid can mean the difference between only being cast as an extra for some rats TV series and being a full-on superstar who sells millions from his mediocre singing or acting. There is no question as to why all these teen idols ALL have great hair
---
I'm one of the admins of this forum. Any questions/issue? Contact me directly or any of the moderators. We welcome any feedback to improve our community.

You can also check out our forum's

BEST HAIR PRODUCTS FOR MEN

thread to read opinions and useful information on men's hair products.
04-18-2014, 06:21 PM
Post: #4
Jesse
Banned

Posts: 49
Joined: Apr 2014
RE: Zac Efron hair, hairstyles and haircuts - Guide with Pictures
NOt really a fan of Zac but he has had a few hair styles that I dont mind.
05-18-2014, 03:08 PM
Post: #5
NickBarritt
Nicolas Cage's hair wannabe

Posts: 3
Joined: May 2014
RE: Zac Efron hair, hairstyles and haircuts - Guide with Pictures
Being a complete hair noob, what would you say the clipper-size would be on the third picture of the 'Ivy league' section or is this a hairstyle that you would never use clippers for? Further details/thoughts (as to measurements and styling) on that particular hairstyle would be greatly appreciated!
And would I be right in saying that that an 'ivy league' cut is referred to a French crop in the United Kingdom?
Many thanks in advance!
08-04-2014, 08:29 AM
Post: #6
RE: Zac Efron hair, hairstyles and haircuts - Guide with Pictures
This man's hair really inspires me.
User(s) browsing this thread: 1 Guest(s)