Tips to get wavy hair straight with product
03-23-2015, 08:12 AM
Post: #1
JonnyVerco
Junior Member


Posts: 2
Joined: Mar 2015
Tips to get wavy hair straight with product
Hey guys,
Long time lurker, first time poster. I tried searching for an answer here, but could not find any.
Basically, to give you a quick background: my hair is extremely thick and about 4 inches long currently. I have wavy hair in which the wave starts to form once my hair gets to about 1 inch long. My problem is that I want to try to straighten my hair, but do not have the time or patience to use a hair straightener on my hair. I style my hair in an executive contour hairstyle. Just after I'm done styling my hair in the morning, it looks good with straight lines and a sleek look. However, after about an hour when the product starts to dry a bit, the hairs start to curl and it looks a mess.
My question is if there's a way for me to make my hair straighter with a hair product? I use Layrite's Original Pomade currently without any other gels or hairsprays and the only thing I could think of is to get a stronger holding pomade. However, I'm not too keen on the crusty/hard feeling in my hair when I use too much product or too strong of product.
Is there something that I could change to my washing/conditioning regimen? I usually wash/condition every other day as I use a water-based product that rinses out.
My hairdresser said that maybe my hair would stop curling a bit once it got a bit longer and had more weight to it, but I'm not finding that to be true.
Any help you could provide would be greatly appreciated as I'm at my wit's end trying different products with no resolve. I wish I could add a photo, but my post count is too low.
03-23-2015, 08:16 AM
Post: #2
Account upgraded to post pictures.
Hi and Welcome!
I've just gone ahead and upgraded your account so that you can post pictures. It'd be interesting to see them so as to know exactly what your hair currently looks like and what can be done about it.
---
I'm one of the admins of this forum. Any questions/issue? Contact me directly or any of the moderators. We welcome any feedback to improve our community.

You can also check out our forum's

BEST HAIR PRODUCTS FOR MEN

thread to read opinions and useful information on men's hair products.
03-23-2015, 08:22 AM
Post: #3
JonnyVerco
Junior Member


Posts: 2
Joined: Mar 2015
RE: Tips to get wavy hair straight with product
Thanks for the upgrade! It's greatly appreciated.
Here's a quick photo: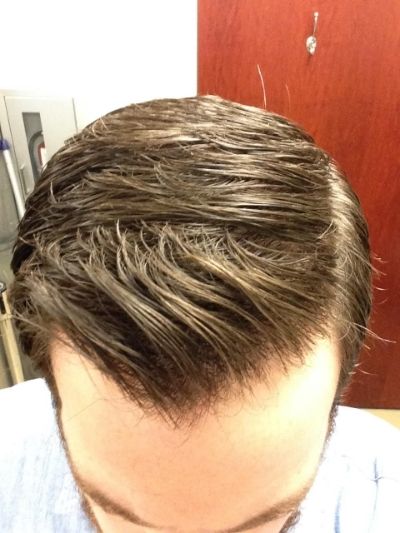 As you can see, the bangs that were combed back and slightly to the side are curling towards the back of the head, which doesn't bother me too terribly much as they are hard to see. (I'm 6'5). But, the top of the head, which was once a carefully combed work of art is now a jumbled mess. I guess I also have a lot of fly-aways on the side of my head.
I also should state that I am due for a trim on Wednesday.
User(s) browsing this thread: 1 Guest(s)