The Man Bun: Jared Leto, Joaquin Phoenix and Alex Ebert
02-22-2014, 06:18 PM
Post: #1
The Man Bun: Jared Leto, Joaquin Phoenix and Alex Ebert
In early 2014, we had a confirmed trend popping up: the Man Bun. Jared Leto had a man bun, Joaquin Phoenix had a man bun and even Alex Ebert had one in his rat's nest
We had already predicted that men's long hair was going to be trendy in 2014 through our
mens hairstyles trends
discussion. A bun is a simple hairstyle for long hair, and when used by men this hair style has been affectionately dubbed the "man bun".
Now, at the 2014 Golden Globe Awards, three male celebrities decided to wear man buns to style their lengthy locks: Jared Leto, Joaquin Phoenix and Alex Ebert. The purpose was very clear, to steal the spotlight by wearing an unusual but hip-looking hairstyle, although in the case of Alex Ebert it was downright gross. Let's compare the man bun of Letp, Phoenix and Ebert individually and then together.
Jared Leto man bun
We have already covered
Jared Leto's man bun
, which we call in this forum the "ponybun". Leto appeared with his hair slicked back and then tied with a half bun and half tail. Looked good.
Joaquin Phoenix man bun
We too have covered
Joaquin Phoenix's man bun
which was a full bun unlike that of Mr. Leto. Phoenix had been religiously growing his hair for the whole of 2013, so it was only a matter of time before Joachim would decide to slap a bun on his head.
Alex Ebert
We understand that not all male celebrities have access to the hippest hairstylists in Hollywood, but that is no excuse to turn up to the Golden Globes with not just a rat's nest but an actual dead rat on the head. For those of you who have read
The Men's Hair Book
, you will very likely remember the term that Rogelio coined for badly cared hair, the "dead rat". As it goes Mr. Ebert decided to troll the awards knowing that he was quite likely taking a trophy home that evening.
And so he did, Ebert won the Golden Globe Award for Best Original Score and allowed the paparazzi to photograph him with a dead rat on top of his head because he "was worth it".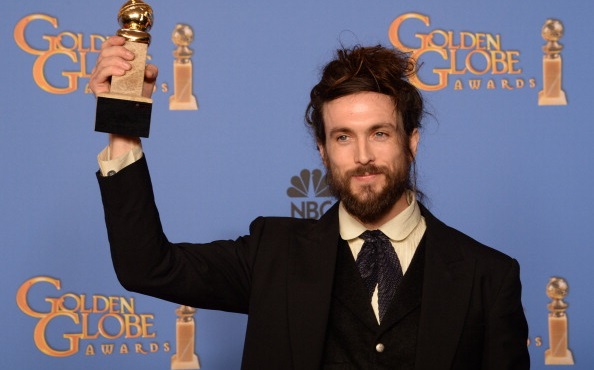 Pictures of the three gentlemen side by side
So now is time to put the 3 guys side by side so that we get a more visual idea of the kind of buns they sported for the occasion. The question now remains, which of the 3 celebrities' man bun do you prefer? And, overall, what do you think about this trendy hairstyle?
Discuss and comment below and do also vote on the poll above!
---
I'm one of the admins of this forum. Any questions/issue? Contact me directly or any of the moderators. We welcome any feedback to improve our community.

You can also check out our forum's

BEST HAIR PRODUCTS FOR MEN

thread to read opinions and useful information on men's hair products.
02-25-2014, 02:41 PM
Post: #2
Jurgen
Super Moderator


Posts: 785
Joined: May 2013
RE: The Man Bun: Jared Leto, Joaquin Phoenix and Alex Ebert
Jared of course!
The other two look like they did not know what they were doing with their hair
Leto brings elegance to the equation. But then
Leto with long hair loose
is not an elegant look, it is more like a surfer style. So ponybun or man bun hairstyle for elegance with long hair, loose long hair to rock out and for the beach.
02-26-2014, 01:51 PM
Post: #3
Alex
Looking fly

Posts: 207
Joined: May 2013
RE: The Man Bun: Jared Leto, Joaquin Phoenix and Alex Ebert
Jared Leto all the way dude.
The other two look like gypsies with all due respect but come on. Joachim Phoenix looked so much better with the caesar haircut he had in Gladiator that i am left in wtf mode trying to understand why his stylist would allow him to grow his hair long... and about the other dude Ebert whatever his name is... dear baby jesus...
02-28-2014, 04:49 PM
Post: #4
Anton
Pompadours & Rock

Posts: 126
Joined: May 2013
RE: The Man Bun: Jared Leto, Joaquin Phoenix and Alex Ebert
Nah with the long hair Jared Leto looked like a woman. It doesnt help that he has a feminine face so add in the bun and he looks too feminine for a dude altho i am aware he wets the panties of many women.
I say Alex Ebert. Why? because if your going to wear a hairstyle that can make you look less masculine then why not do it like your growing a bird nest up there. Surely no woman would dare to appear in public with such a terrible bun so you wont have your bun associated with anything female. Alex Ebert s man bun is manly and thats the end of the story 4 me lol cheers
User(s) browsing this thread: 1 Guest(s)