Steve Harvey hair, hairline and haircut to fight baldness
01-27-2014, 04:13 PM
Post: #1
Steve Harvey hair, hairline and haircut to fight baldness
While it is true that he is now bald, once upon a time Steve Harvey had hair that covered his scalp like a rug and his Horseshoe mustache was nothing compared to the kinky curly hair of a young Steve Harvey back in the day. Some people have even mentioned that his afro textured kinks are to men's hair what Chuck Norris' beard is to facial hair
Steve Harvey has had a
High Top Fade haircut
, a S Curls hair style and a teenie weenie Afro. The Harvey man has also been called out for going bald and hiding it under a toupee with the S Curls style and even using Toppik. In the end, the dude opted to
shave
it all off and dig the bald look like a boss.
High Top Fade haircut
Rocking a Hi Top back in the 1980s. Those were the days, right folks?
If any of you're planning to get a High Top Fade then it is essential that you own
this hair clipper
as it lasts over an hour of non stop buzzing and this clipper will buzz the thickest hair you test it with.
Steve Harvey hairline
Now, the man himself loved a well shaped up hairline with tight corners, back in the days when he had hair, that is. To get the hairline shaped, you can use the hair clipper above too for the Hi Top.
Steve Harvey afro wig
Ok, the guy was getting called out for this hairstyle where the hair looks to be glued on the scalp instead of
growing naturally
. You be the judge.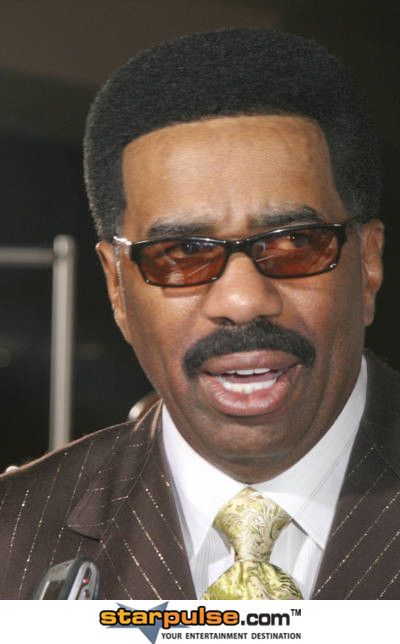 Is Steve Harvey hair real?
In the past I have heard lots of people ask if Steve Havey's hair is real? Well, he keeps it shaved for a reason. He already did a few screw ups where the vertex of the head (crown) was showing as a bald patch as the Toppik let him down. TV anchormen using Toppik is a very common practice especially with black men as the balding patch is easy to hide with the naturally looking fibers of the Toppik (if you want to have a look at what Toppik is, does or how much it is, then check
this Toppik Amazon page
).
Steve Harvey then supposedly got a hair weave but that didn't last long and he was soon shaving his shiny melon and keeping the Horseshoe mustache (sometimes a walrus 'tache) for a bit of hairiness.
Here are 2 pictures of his hair loss screw ups:
The bald look
Just shave the stuff and be done with it
Use the hair clipper recommended for the Hi Top fade above or use a safety razor to get the closest shave for your scalp hair (
this safety razor
is great for shaving scalp hair and facial hair).
---
I'm one of the admins of this forum. Any questions/issue? Contact me directly or any of the moderators. We welcome any feedback to improve our community.

You can also check out our forum's

BEST HAIR PRODUCTS FOR MEN

thread to read opinions and useful information on men's hair products.
01-28-2014, 10:46 AM
Post: #2
JaimeSpain
Registered member

Posts: 113
Joined: Dec 2013
RE: Steve Harvey hair, hairline and haircut to fight baldness
hi top styles are very eighties jaja here in Spain I watch it with Will smith in fresh prince of Bel Air he also had this hairstyle > yes?
User(s) browsing this thread: 1 Guest(s)