Rodrigo Palacio Hair in Rat Tail Hairstyle Pictures
06-24-2014, 11:57 AM
Post: #1
Jurgen
Super Moderator


Posts: 785
Joined: May 2013
Rodrigo Palacio Hair in Rat Tail Hairstyle Pictures
Rodrigo Palacio is a football player who plays for Argentina. Rodrigo Palacio's hair is styled in a rat tail hairstyle, so his hair is in a buzz cut except for a single lock of long hair!
Rodrigo Palacio's hair has varied in lengths but he has always kept the same rattail hair on the back of his head. AFAIK Palacio is the only football player who wears a rattail hairstyle.
Cristiano Ronaldo
had a rat tail lock when he started at Manchester United but it was nothing as extreme as the rattail of Palacio lol now that I think about it,
Neymar
had a pseudo rat tail too.
I am including the pictures of Rodrigo Palacio's hair in our
2014 World Cup hairstyles
discussion but I am also posting his rattail haircut pictures below since we need more... long rattail pictures?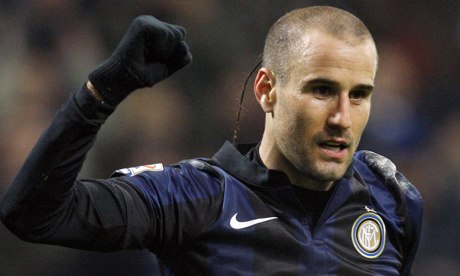 06-25-2014, 06:23 AM
Post: #2
Anton
Pompadours & Rock

Posts: 126
Joined: May 2013
RE: Rodrigo Palacio Hair in Rat Tail Hairstyle Pictures
Holy monkey that is one ugly hairstyle. Wonder how many opposite players have thought about pulling him by that lock...
07-03-2014, 03:47 PM
Post: #3
Bradley
Professional Barber

Posts: 429
Joined: Aug 2013
RE: Rodrigo Palacio Hair in Rat Tail Hairstyle Pictures
The rat tail thing is already ugly as it gets. But come on! the guy is a football player. Someone is bound to pull the tail at some point and that thing is going to hurt.
07-10-2014, 09:26 AM
Post: #4
B2stMode
Super Poster

Posts: 67
Joined: Jun 2014
RE: Rodrigo Palacio Hair in Rat Tail Hairstyle Pictures
Not sure if this is the reason he wore this hairstyle, but it's similar to the Padawan Braid from Star Wars. The braid is supposed to be worn by a Jedi in training. When they Padawan becomes a Jedi Knight, the braid is to be cut off by a lightsaber. If they are expelled, the braid is ripped off.
At least that's what I learned when my friend had one of these and I asked about it lol.
User(s) browsing this thread: 1 Guest(s)