Rock Star Hairstyles: Guide on the Epic Hair of Rock Stars from Past and Present
05-09-2014, 03:29 PM
Post: #1
Rock Star Hairstyles: Guide on the Epic Hair of Rock Stars from Past and Present
Over the decades, we have seen a wide range of rock star hairstyles. So let's cover in this guide all the hairstyles of rock stars, from Jim Morrison's hair in casual waves to Slash's long curly hair.
Rock stars have styled their manes in all kind of
mens hair styles
although long hair seems to be the most common styling trait when it comes to actual rock star hairstyles. It could be argued that the
long hair style
trend started with the hippie movement and went into full effect in the 1980s, with rock bands like Europe and Whitesnake having their members all wear long manes (and because they genuinely liked long hair and not just as a marketing move!). Likewise, long hairstyles for men extended to the metal genre as metal music stemmed from rock music. Long hair has been regarded as anti-establishment and rebellious ever since the hippie movement, and thus the common wearing of epic long manes in rock and heavy metal music.
In this guide, we will cover all the different rock star hair styles, using the actual name of the rock star to feature the style. Anybody is free to post in this guide the styles of their favorite rock musician, and rock and metal aficionados are certainly welcome to post
Hair products for rock star hairstyles
The one thing before venturing into the different rock stars and their hair, is to cover the hair products that have been traditionally associated to rock music as well as which products are indeed useful for the messy, shaggy, big and long hairstyles of rock stars.
First of all,
hair spray
has been widely used by male rock musicians since the 1980s.
Hair spray
is an excellent product to keep one's locks fixed into position (any position one wants), so rockstars have more than abused hair spray
A great hair spray to get, and not just for rockstar hairstyles, is
this styling spray
that is very versatile and enhances just about any style.
Hair gel
has also been used widely, especially "strong hold" hair gel. As with hair spray, hair gel acts to hold the mane into whichever shape one desires. The only issue with hair gel is that the cheaper low-quality ones tend to leave a lot of residue behind and make the hair crusty, so it is important to always buy a good hair gel.
This specific hair gel
is a very good one to always have around as it will work very well for styles requiring a good hold!
Pomade
was heavily used in the 1960s by rock & roll stars. From Elvis hair to Johnny Cash's Pompadour, they would all grease their hair with so called greaser pomades.
Greaser pomades
are oil based pomades that provide a strong hold with shine that will certainly get you good looks if you shape your hair right (and you will shape your hair right if you follow and read our forum and/or if you own a copy of the excellent and highly-recommended book,
The Men's Hair Book
). A great greaser pomade to own if you want a strong hold with plenty of shine is
this old-school pomade
that the likes of Elvis Presley and other rock & roll stars used back in the day!
The
hair dryer
has been the to-go hairstyling tool for rock stars. A hair dryer allows you to provide as much volume as you want to your mane and the
hair dryer
was an indispensable styling tool for male rock stars of the 1980s, when the "big hair" term was coined due to the propensity of 1980s rock stars to style their hair with lots of volume. Owning a high-quality hair dryer is of the utmost importance as a bad-quality hair dryer will fry your hair. A high-quality durable hair dryer we recommend is
this premium hair dryer
which will last you way longer than most hair dryers and which will tame frizz and greatly enhance any hairstyle you use it on!
Alright, so after recommending you some great products for the rock star hairstyles, it is time to now go through the varied and crazy range of styles worn by rock stars of today and yesteryear!
What can we say about the luscious locks of Slash? The
long curly hair
of Slash has by now become iconic in the hard rock and metal scenes.
David Coverdale hairstyle defined the 1980s term "big hair". David Coverdale would use hair mousse and a hair dryer to get his hair to epic "big" proportions. Then, to finish it all, he would use hair spray to keep his hair big throughout the concert or event he was to appear at. You can find our recommended hair dryer and hair spray earlier in this guide (above), while, for a recommended hair mousse, a good one to use is
this styling hair mousse
which greatly enhances the volume of your hair (as much as you want or feel for the day) and also defines the shape of the hair (including the shape of curly hair!).
The hair dryer/mousse/spray combination was very common among male rock stars in the 1980s for the aforementioned "big hair" effect
Tommy Aldridge was a famous drummer who played for some great hard rock and metal bands and acts. Tommy Aldridge's curly hair was always big, crazy and up!
Joey Tempest of the rock band Europe usually had
long straight hair
cut in textured layers to shoulder length or thereabouts.
John Norum was the guitarist for Europe and, like Joey Tempest, John Norum usually had his long wavy hair in a long layered hairstyle.
Axl Rose was the lead vocalist for Guns N' Roses. Axl Rose's hair was usually at any
hair length
between a shoulder length and a chest length and his long mane was left danging for much of his career during the 1980s and 1990s. However, something wrong must have happened to him in the 2010s as
Axl Rose's hair was braided
into some very weird long hairstyle that made him look like he was trying way too hard to get back his 1980s coolness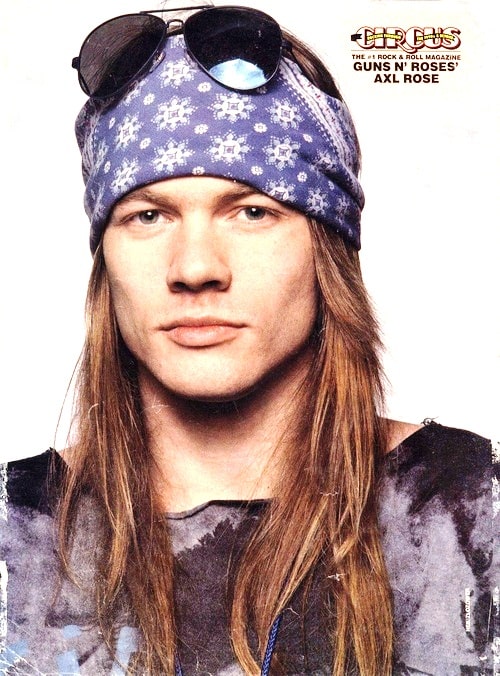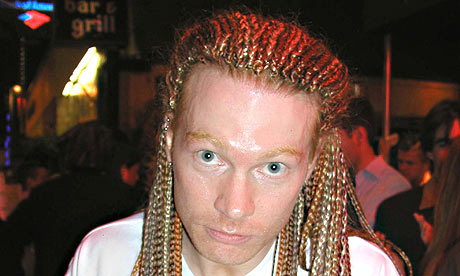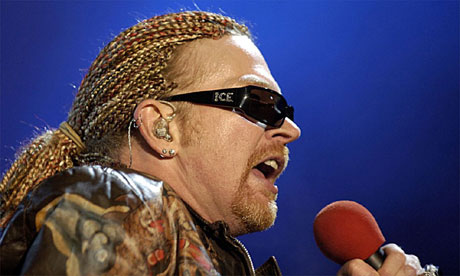 Dizzy Reed was the pianist and percussionist for Guns N' Roses. Dizzy Reed's hair was straight and kept in a "beyond shoulder length" hairstyle.
Tommy Lee was the drummer for the metal band Motley Crue. He kept his long hair as "big hair" in the 1980s and then Tommy Lee cut his hair in the 2000s. Thus, Tommy Lee has been one of the few rock stars with short hairstyles.
Nikki Sixx was also of the Motley Crue band and he too maintained a big hair emphasis like Tommy Lee in the 1980s. Most of the time, Nikki Sixx's hair was done in a long shaggy haircut.
Rod Stewart's hair was done in a shaggy haircut and his medium length hair was possibly the flagship mane for this specific mens haircut. The shaggy haircut was only popular with ladies prior to Rod Stewart coming along and popularizing it in the rock scene among men during the 1980s. Rod Stewart also had a thing for bobcut haircuts and similar
short haircuts
that had a messy and shaggy textured focus.
Jim Morrison's hair was styled in a long bobcut or in a loose
wavy long hairstyle
. Jim Morrison's hair became iconic during the 1960s as he was the frontman of rock band The Doors. In fact, many men in the 1970s (after Jim Morrison's death) would specifically ask at barbershops for a "Jim Morrison hair style".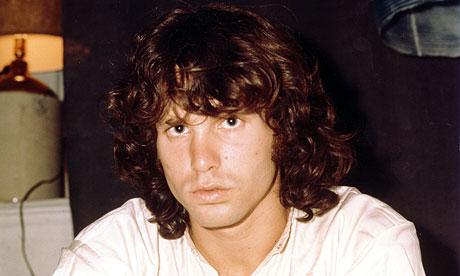 Stephen Duffy's hair was short and
styled messy
for just about all of his career with Duran Duran. In fact, Stephen Duffy was among the few rock stars with short hair (all throughout his career). He did a couple of times wear medium to long hair but it was his short hair that was his trademark.
ROCK STAR HAIRSTYLES GUIDE CONTINUES BELOW
---
I'm one of the admins of this forum. Any questions/issue? Contact me directly or any of the moderators. We welcome any feedback to improve our community.

You can also check out our forum's

BEST HAIR PRODUCTS FOR MEN

thread to read opinions and useful information on men's hair products.
05-09-2014, 03:30 PM
Post: #2
RE: Rock Star Hairstyles: Guide on the Epic Hair of Rock Stars from Past and Present
Elvis Presley hair was styled in a Pompadour hairstyle for much of his career. Elvis Presley would grease his
Pompadour hairstyle
with a heavy oil-based pomade like the one recommended earlier in this guide.
Elvis Presley was blessed with thick dense hair that allowed for the styling of some epic Pompadours. Larry Geller was Elvis Presley's hairdresser and he (Larry Geller) has spoken of the sexual power that the hair of Elvis Presley had back in the 1960s. Groupies adored Elvis hair, and Elvis Presley's Pompadour hairstyle with thick sideburns was regarded at the time as the ultimate stud hairstyle.
A rock & roll star, Johnny Cash's Pompadour also became iconic just like Elvis Presley Pomadour hairstyle. Johnny Cash's hair was
curly
which made it difficult to style the Pompadour. Regardless, Johnny Cash's Pomp hairstyle always looked great and was always greased with the same oil pomade of Elvis Presley (as recommended in this guide).
Later in his years, Johnny Cash would take advantage of the hairstyling technology and he would straighten his hair with a
hair straightener
aka flat iron to be able to keep his mane conveniently styled. Nowadays, we men have it even easier when it comes to straightening our hair due to the vast range of hair straighteners available. One hair straightener that we highly recommend is
this specific hair straightener
as not only is it of a high quality and does the job very well but it is also affordable and offers great value for its price.
---
I'm one of the admins of this forum. Any questions/issue? Contact me directly or any of the moderators. We welcome any feedback to improve our community.

You can also check out our forum's

BEST HAIR PRODUCTS FOR MEN

thread to read opinions and useful information on men's hair products.
05-14-2014, 04:25 PM
Post: #3
Bradley
Professional Barber

Posts: 429
Joined: Aug 2013
RE: Rock Star Hairstyles: Guide on the Epic Hair of Rock Stars from Past and Present
Now this is the mother of all threads
I have a couple of ideas for this thread actually. Will try to post them when I have some more time mate
cheers.
07-17-2014, 12:35 PM
Post: #4
Jurgen
Super Moderator


Posts: 785
Joined: May 2013
RE: Rock Star Hairstyles: Guide on the Epic Hair of Rock Stars from Past and Present
John Leven's long hair, he was part of the band Europe with Joey Tempest & John Norum - the last 2 who have been covered in this thread already. Also the last 2 pictures are of all the hairstyles of Europe's band members!
Of course, the long hair of Jon Bon Jovi in the 1980s! Jon Bon Jovi's hair has the record of wetting the biggest number of women in one go lol
Even today with all the short haircuts for men &
hipster hairstyles
, Jon Bon Jovi's long hair rocks & most women would choose this guy over hipster like
Ricki Hall
with their macho wannabe attitudes!
So we have posted the big hair styles of Tommy Lee & Nikki Sixx... but what about the hairstyles of all in Motley Crue aka Mötley Crüe? Pictures of Motley Crue big hair...
07-26-2014, 07:46 AM
Post: #5
Zorba
Unicorn trainer

Posts: 59
Joined: May 2013
RE: Rock Star Hairstyles: Guide on the Epic Hair of Rock Stars from Past and Present
Seriously so many hair bands from the 1980s... wildest hair decade by far
Here are some other rock hair bands with wild hairstyles.
Def Leppard
Cinderella
Poison
Queensryche
Skid Row
Warrant
Slaughter
Eddie Van Halen and Dave Roth
Firehouse
Trixter
07-28-2014, 08:45 AM
Post: #6
Michael
Registered member

Posts: 20
Joined: Jul 2014
RE: Rock Star Hairstyles: Guide on the Epic Hair of Rock Stars from Past and Present
It was short, long, and then short again
User(s) browsing this thread: 1 Guest(s)