Pictures of Jared Leto Man Bun Hairstyle at Golden Globe Awards 2014
01-16-2014, 07:32 AM
Post: #1
Pictures of Jared Leto Man Bun Hairstyle at Golden Globe Awards 2014
Jared Leto turned up to the Golden Globe awards with a man bun hairstyle for his long hair. Leto has been growing his wavy hair for the whole of 2013 and rocked the awards with his half-bun/half-tail man
trendy men's hair style
which we like to also call a "ponybun" around here
His hair has grown beyond shoulder length by now so it goes great for a half bunned ponybun style instead of putting the locks into a one whole bun or a full tail. Check out all the pictures below showing in detail this new hairstyle of his!
Jared Leto's long hair in man bun hairstyle for the Golden Globe Awards of 2014
And here both the Leto brothers celebrate the award backstage: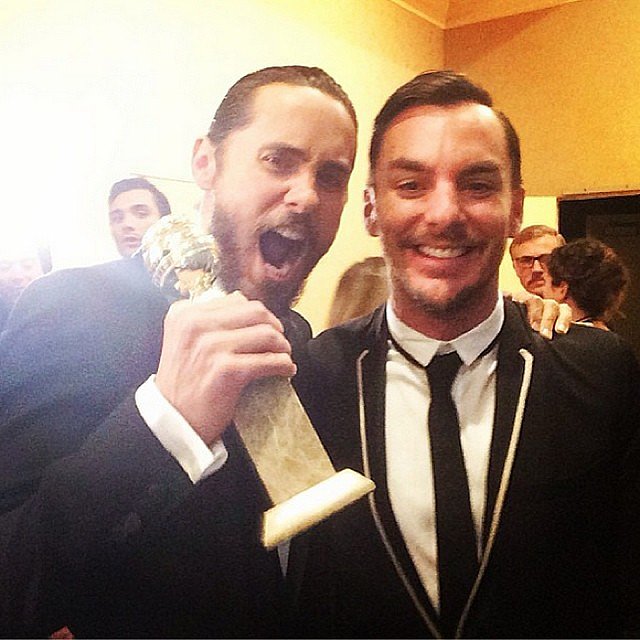 How to do a man bun or ponybun
The most important part is to have
long hair
and to grow the hair to at least 10 inches long, including the hair on the hairline of the forehead. From there, grab all your hair back with one hand, tie it with a
hair band
(make sure that the band doesn't have any metal bits like the one in the link), then put the tail into a fist shaped mass (the bun), and pass the hair band again through the bun to "choke" it.
Before proceeding to grab the hair to tie back, use some water-based pomade to slick back the hair to give the same wet look effect as the one of Leto in the pictures. For a good hair pomade that will do this exactly, use
this hair pomade
. You can use it to slick back your hair even if you don't have long hair.
Hair bands are also known as hair elastics, hair ties and/or scrunchies and you can read more about them and other long hair accessories for men in our
men's hair accessories
thread!
---
I'm one of the admins of this forum. Any questions/issue? Contact me directly or any of the moderators. We welcome any feedback to improve our community.

You can also check out our forum's

BEST HAIR PRODUCTS FOR MEN

thread to read opinions and useful information on men's hair products.
User(s) browsing this thread: 1 Guest(s)