Pauly D Blowout Hairstyle Video Tutorial with Products
07-21-2014, 10:42 AM
Post: #1
Jurgen
Super Moderator


Posts: 785
Joined: May 2013
Pauly D Blowout Hairstyle Video Tutorial with Products
Not many people knew about the blowout hairstyle until Pauly D made it famous thru Jersey Shore. The blowout hairstyle of Pauly D is a hair style where the hair is 'brushed up' as a
hair dryer
is pointed towards the hair. The hair is then 'fixed' & secured in place with hair gel & hair spray.
The blowout hairstyle is similar to our own
brush up hairstyle
where hair volume is the goal. However with the blow out style you will be wanting to achieve as much vertical length - upward length - as possible & then be using hair gel to keep the hair vertical. The blowout style is a
medium length
hairstyle so the perfect hair length for the blowout is between 3 to 5 inches on the top of the head.
The haircut for the blowout hairstyle is a temple fade haircut. A temple fade haircut is a very short & fast fade that you need a skilled barber to do. However to do a blowout, you don't need the temple fade haircut & any
taper cut
or even
undercut
will work fine. Just that the Pauly D blowout hairstyle does have a temple fade haircut!
In the video below, Pauly D styles his hair in he blowout & gives you his instructions. The hairstyling instructions are easy to follow & you can easily recreate the hairstyle of Pauly D. I will list below the video the products to use for Pauly D's blowout hairstyle, including the
brand of hair gel
that Pauly D uses!
Damn the video link isn't working anymore but you can watch the video tutorial of Pauly D's blowout hairstyle in
this tutorial at Men's Hair Blog
. Damn... sorry guys the video is also removed from there. You can use the pictures I am posting below to get an idea of how the hairstyle looks tho
Anyway, the products to use for the blowout:
SOme pictures of the Pauly D hairstyle as a blowout: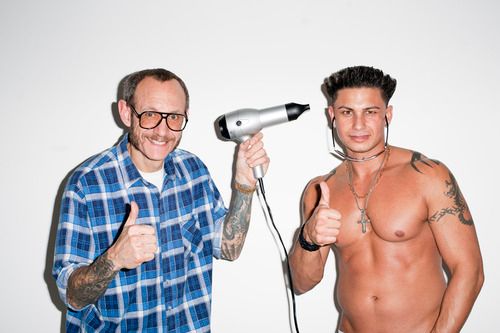 User(s) browsing this thread: 1 Guest(s)