Paul Pogba's hair, hairstyles and haircuts - Mohawk, undercut and more crazy cuts
03-15-2014, 02:52 PM
Post: #1
Jurgen
Super Moderator


Posts: 785
Joined: May 2013
Paul Pogba's hair, hairstyles and haircuts - Mohawk, undercut and more crazy cuts
Let's specifically discuss Paul Pogba's hair, hairstyles and haircuts in this thread. Feel free to post more pictures of his hair in this thread or discuss anything related to his fashion sense or look.
Paul Pogba is a football player playing for Juventus in Italy. Pogba's hair is kinky curly & he is known for doing bizarre and extreme haircuts just like fellow Italian player
Stephan El Shaarawy
. In Europe, more & more young football players are getting extreme haircuts & styles, especially in Italy, Spain and England.
Pictures of Paul Pogba's hair and hairstyles
Pogba's most preferred haircuts are the mohawk & the undercut/high and tight. He also likes to shave part in lines and other creative hair designs. Lastly, he likes to bleach his hair especially with the mohawk.
Mohawk
Paul Pogba usually does his mohawk without straightening his kinky curly hair - this type of mohawk for black men with kinky curly hair is known as a
frohawk
. He will also dye the hair blond & other colours depending on his mood for the day
Undercut
The
undercut
as a haircut doesn't have to be clipped horizontally & can instead be done creatively. In the case of Pogba's undercut style he clips the hair to a 0 & leaves sharp edges which usually looks bad with kinky hair. But seeing the hairstyles he chooses, I don't think he really cares how bad a haircut can look on him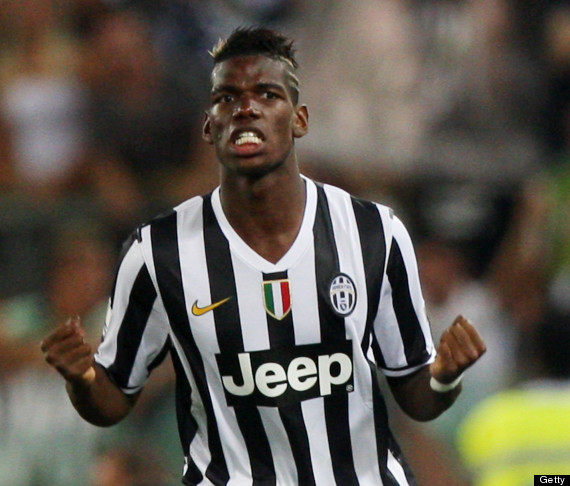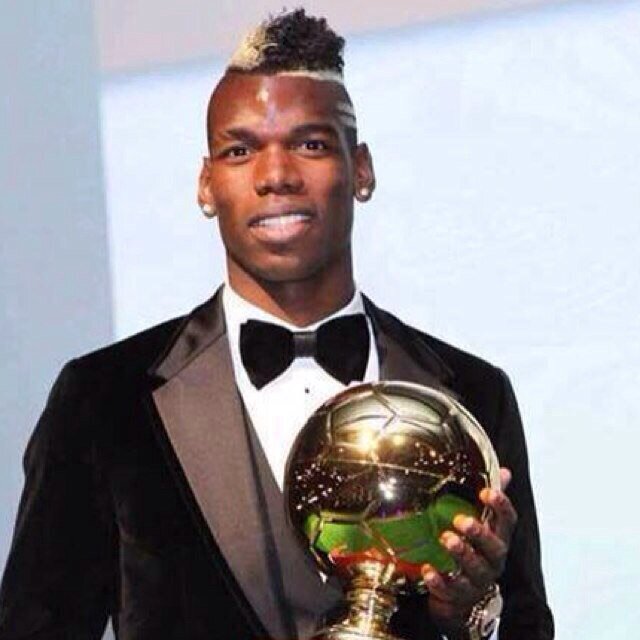 High and tight Recon
The high & tight Recon is a
marine haircut
that is known for its short length & the landing stripe on the top of the head. In the picture of Paul Pogba's hair below, his hair is in a pseudo recon haircut. He wore this cut for a while & I believe this was the cut he had right before growing the mohawk and getting it clipped.
Side square
The side square is a haircut which we gave its english name here in this forum. This haircut is becoming trendy in Spain & Italy where many informal names exist for this cut, so we decided to call it the side square as the hair that is mainly clipped is the hair on the sides of the head below the temples. Another example of the side square is that of
Sergio Ramos haircut
last week where he surprised everyone by turning up to the game with side squares.
Like with the undrcut and the mohawk, he likes to bleach the hair especially on the sides of the head.
S curls
When Paul Pogba was young, he liked to texturize his hair so that it would be less curly. To make curly hair less curly, a simple product known as a texturizer is applied of which
this S Curls kit
is one that works to make the hair smoother and less curly - to use simple follow the instructions, it is very easy to use, just apply it to your hair, wait a little & wash it off.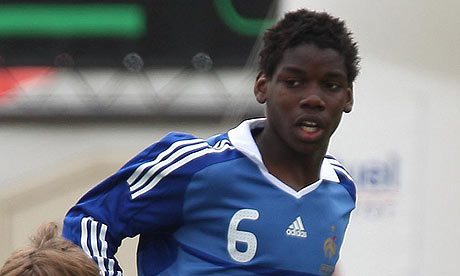 Get the look
Even tho his cuts & styles are extreme, Paul Pogba only needs to rely on a couple of tools: a good hair clipper, a hair dryer & a good styling product with a strong hold. The S Curl texturizer I referenced earlier is good also for men with very curly hair who want to have less curly hair so click its link above & read more about it as that is a great alternative to increase your hairstyle range.
The following are the products we recommend for all the hairstyles and haircuts of Paul Pogba:
- Get
this hair gel:
the hair gel in the link is of a strong hold so it will work very well to fix the hair up for your mohawks & undercuts if styling the hair up. This same gel goes great for other hairstyles so you should always have a bottle of it at home as the gel is one of the basics of mens hairstyling.
- Get
this hair wax:
the hair wax in the link also has a strong hold so it works very well for the mohawks & undercuts just like the hair gel product above. The difference between this wax & the gel above is that the wax gives a more natural look style look to your hair while the gel gives a dryer & harder look. The wax is also a great styling product to always have at home as it too is one of the basics of mens hairstyling.
- Get
this pomade:
the pomade in the link also has a strong hold but gives more gloss & shine to the hair. If you prefer this kind of texture to your hair, then this pomade will do the job very well!
- Get
this hair spray:
the hair spray in the link is great to leave your hair fixed and held however you want. This spray is the finishing touches to your mohawk or 'styled up' or 'brush up' undercut. Whenever you need your hair to stand up & remain exactly like that for the whole day, then the spray in the link will be perfect to achieve this styling goal.
- Get
this hair dryer:
the hair dryer in the link is a premium hair dryer that will dry your hair much better, faster & won't damage your hair. This dryer will also enhance all hairstyles you want & especially so for the mohawk. Simply point this hair dryer to your hair as you lift your hair with your fingers or with a comb to achieve great volume on your hair. You can petty much do whatever you can imagine to your hair with this high quality hair dryer.
- Get
this hair clipper:
the hair clipper in the link is the best of the best. Its motor is very powerful & will clip thru any kind of hair, including the thickest of hairs! This clipper comes with the whole clipper kit, including guiding combs to give you a wide range of clipper lengths to choose from. The clipper will keep buzzing without rest for over one hour at maximum performance & without overheating - this is almost impossible for any other clipper to achieve.
When it comes to styling tools like a hair dryer and a hair clipper, we highly recommend you to go for quality instead of for a cheap price. High quality styling tools will last you years & won't give you any problems as they are made for heavy duty & for maximum performance. In the lifetime that the recommended clipper above will last, you will easily go through 3 or more regular hair clippers, which means spending more money buying new clippers. If, however, the dryer & clipper recommended above are out of your budget, then browse thru our
best hair dryers
discussion & our
best hair clippers
discussion
03-15-2014, 03:01 PM
Post: #2
Jurgen
Super Moderator


Posts: 785
Joined: May 2013
RE: Paul Pogba's hair, hairstyles and haircuts - Mohawk, undercut and more crazy cuts
A few more images.
Mohawk
Recon
Well more like a 'pseudo' recon.
Side square
Side square with shaved part in.
High and tight
The high and tight is similar to the undercut only that the hair on top of the head is shorter & the perimeter of the cut is set high on the temples like in the picture below.
Short clipper taper
Finally a normal haircut of Paul Pogba!
03-15-2014, 04:49 PM
Post: #3
Machado
Super Poster

Posts: 156
Joined: May 2013
RE: Paul Pogba's hair, hairstyles and haircuts - Mohawk, undercut and more crazy cuts
I just cannot understand the extent to which some men will go to draw attention to themselves. I mean this dude already has a freaking mohawk on his head and thinks it must not be enough to get attention so then bleaches his hair too??
I actually think his hawk looked pretty good but the rest of the decorative bleaching just breaks the hairstyle.
03-18-2014, 08:17 AM
Post: #4
shane88
Member


Posts: 75
Joined: Mar 2014
RE: Paul Pogba's hair, hairstyles and haircuts - Mohawk, undercut and more crazy cuts
Pogba crazy mohawk to be honest looks actually pretty good, I can't believe I'm saying it lol, personally I wouldn't consider doing anything like it but he has pulled it off pretty well, I think this hairstyle takes a brave man and a crazy one to try it, it's a hairstyle that's if pull off well gives that confident look which girls love in a guy
03-21-2014, 11:30 AM
Post: #5
Jurgen
Super Moderator


Posts: 785
Joined: May 2013
RE: Paul Pogba's hair, hairstyles and haircuts - Mohawk, undercut and more crazy cuts
(03-18-2014 08:17 AM)

shane88 Wrote: Pogba crazy mohawk to be honest looks actually pretty good, I can't believe I'm saying it lol, personally I wouldn't consider doing anything like it but he has pulled it off pretty well, I think this hairstyle takes a brave man and a crazy one to try it, it's a hairstyle that's if pull off well gives that confident look which girls love in a guy
Yes similar to Mario Balotelli. But with Paul Pogba he is the captain for Juventus - or at least a very important player - so he gets even more respect. Crazy hairstyles, yes, but he seems to be an intelligent player - unlike Balotelli
User(s) browsing this thread: 1 Guest(s)