Mohawk Haircut of Arturo Vidal and More Haircuts Pictures of His
06-18-2014, 03:36 PM
Post: #1
Jurgen
Super Moderator


Posts: 785
Joined: May 2013
Mohawk Haircut of Arturo Vidal and More Haircuts Pictures of His
Arturo Vidal is a football player known for his extreme haircuts like mohawk and military cuts. Perhaps the most iconic haircut of Arturo Vidal is the mohawk, which he sometimes keeps clipped in a high and tight.
Arturo Vidal has one of the most extreme
haircuts of the 2014 World Cup
together with Neymar, Mario Balotelli & some more players that we have covered in this forum section. Vidal plays in italian team Juventus & together with
Paul Pogba
who is also known for his extreme hair cuts & epic mohawks & faux hawks
Below are the different hairstyles & haircuts of Arturo Vidal. The good thing about the styles that he chooses is that they are easy to do by yourself if you have a
good hair clipper
& with a good hair wax & hair spray.
If you are interested in recreating any of Arturo Vidal's haircuts below, then I highly recommend that you get
this excellent hair clipper
to clip your hair super short & keep it that way long term,
this styling ribber wax
for some good shaping & glossy full hair effect and then
this hair spray
to keep the hairstyle in its position without moving but also looking flexible & natural - without the super hard ugly effect that cheap hair sprays give.
Now, the pictures!
before I forget though, the
beard style
of Arturo Vidal is known as the Rap Industry Standard.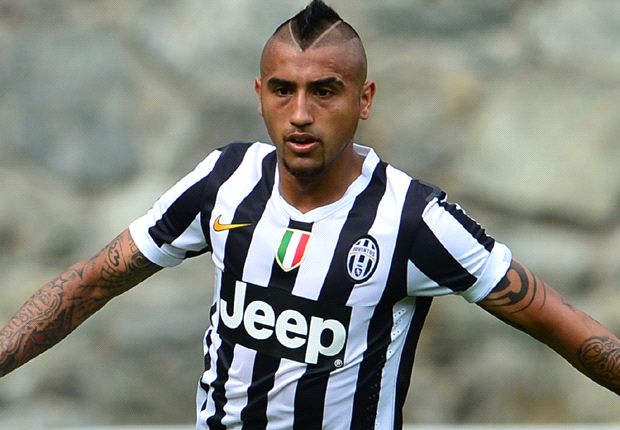 06-18-2014, 03:51 PM
Post: #2
_Downfall_
Nicolas Cage's hair wannabe

Posts: 10
Joined: Jun 2014
RE: Mohawk Haircut of Arturo Vidal and More Haircuts Pictures of His
I really dig that mohawk think it looks pretty unique and awesome
06-18-2014, 04:20 PM
Post: #3
Jurgen
Super Moderator


Posts: 785
Joined: May 2013
RE: Mohawk Haircut of Arturo Vidal and More Haircuts Pictures of His
Here are some pictures of Arturo Vidal haircuts without the Rap Industry Standard beard style. He looks very different without it as expected since the Rap Industry Standard is a big facial aesthetics modifier even tho it's not a big style.
Some more pictures with the facial hair style. In case you haven't seen enough pictures
the thing is that in every picture Vidal's haircut changes in some small way, creative guy lol
User(s) browsing this thread: 1 Guest(s)