Mike Tyson Haircut: Epic Undercut Hair Picture
05-23-2014, 01:59 PM
Post: #1
Mike Tyson Haircut: Epic Undercut Hair Picture
This is a rare picture of Mike Tyson with an Undercut haircut. The picture is from the 1980s when a young Mike Tyson would destroy anything that was put in front of him.
Mike Tyson's haircuts have been confined, for the most part, to fade haircuts as those were the typical hairstyles for black men in the 1980s (when Mike was at his highest). The Undercut is a rare
haircut for black men
as an Undercut leaves a very sharp edge when cut through kinky curly hair which is the
hair type
of most black men. Thus, the fade is always a better haircut for black men and men with curly hair when it comes to trimming the sides and back of the head.
It may not look very aesthetic, but, hey, we are talking here of Mike Tyson with an Undercut. We can all forgive him for the not-so-aesthetic sharp edges of his Undercut
(and none of us would have dared to call him out on his poor hairstyle aesthetics either LOL)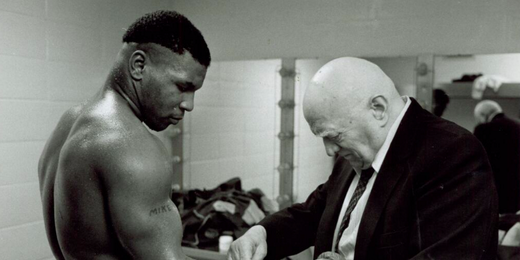 ---
I'm one of the admins of this forum. Any questions/issue? Contact me directly or any of the moderators. We welcome any feedback to improve our community.

You can also check out our forum's

BEST HAIR PRODUCTS FOR MEN

thread to read opinions and useful information on men's hair products.
User(s) browsing this thread: 1 Guest(s)