Luke Holland hair, hairstyles and haircuts - Guide with Pictures
02-12-2014, 11:22 AM
Post: #1
Jurgen
Super Moderator


Posts: 785
Joined: May 2013
Luke Holland hair, hairstyles and haircuts - Guide with Pictures
Let's specifically discuss Luke Holland's hair, hairstyles and haircuts in this thread. Feel free to post more pictures of his hair in this thread. Point to any hairstyles/haircuts too if you want.
Luke Holland is a 18 year old guy who found success thru Youtube for his drumming hobby & was eventually offered to be the drummer for metalcore music group
The Word Alive
.
Luke Holland has straight hair which he usually keeps flat and parted, sometimes in a more side swept style & some other times in a more informal shaggy style.
Pictures of Luke Holland hair, hairstyles & haircuts
Because of his straight hair, he has plenty of hairstyling options but usually keeps the hair short to medium and parted in some manner.
Messy side part
He left his hair to grow to almost a long length then part the hair on the left and do a casual side comb with a messy look. Ladies loved this style of his.
Side swept
The
side swept
has a flatter look with the parting of the hair and is more formal than the shaggy side part. Goes great with pomade - see below in this post for the products. He will also leave a little side fringe in the side swept at times.
Side comb with fringe
Kind of of similar to a young Justin Bieber hairstyle, the hair is combed without a defined parting line and left a small fringe on the forehead.
Front fringe
Holland will sport front bangs in a fringe similar to a mop top for his concerts especially sinc ehis hair moves a lot as he drums.
Taper haircut
Tired of the longer hair that would dangle while drumming, Luke Holland also got a haircut, it was a low taper cut with short hair on the top but with enough length for side parting. This haircut is similar to a
businessman cut
.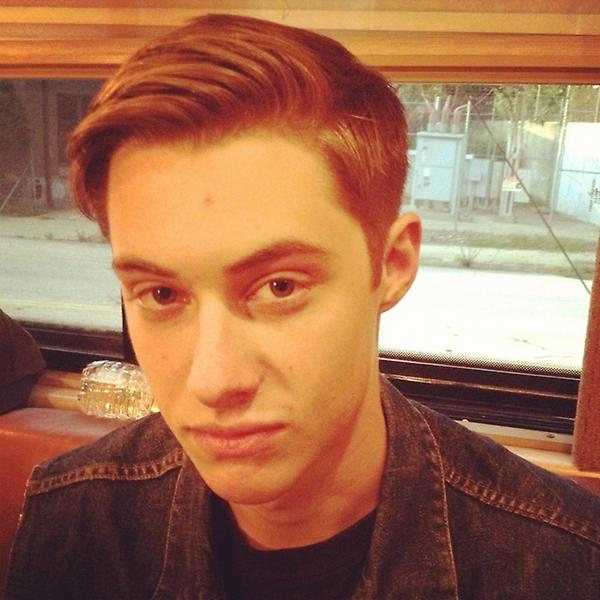 Get the look!
You will need a couple of products for all of Luke Holland hairstyles. Mainly pomade, hair wax, scissors, a hair dryer & straightener if you don't have
straight hair
.
Click each link to see & read more about the product.
- Get
this pomade:
for the side swepts, bangs and side parts, will give a slight wet effect but without the shine & that's what we are after.
- Get
this hair wax:
for the messier looks like the messy side part. Style the wax with your fingers.
- Get
this set of scissors:
if you want to cut your own hair for better customizing your look and get a similar cut to the new haircut of Luke Holland. This scissors will work for any other cuts or styles you want to try so its a good investment.
- Get
this hair dryer:
if you really want to be able to do all kinds of hair styles, you will then need a good hair dryer - aka blowdryer. Use the hair dryer for tousling and messing your hair for the side parts and also for the bangs styles of Holland. The hair dryer in the link is of great quality and will last you a very long time, the problem with cheap hair dryers is they break fast due to the heat & the one in the link will last you the longest and also works much better than cheap dryers.
- Get
this hair straightener:
if you dont have naturally straight hair then you will need a high quality hair straightener - aka flat iron. Hair straighteners are super useful for setting the locks of hair in side parts and can make your messy side parts as creative as you want, not to mention any other styles you like. Get the straightener in the link as it is an excellent product which works better than even more expensive straighteners - and it is from a hair care brand who produce excellent hair straighteners!
User(s) browsing this thread: 1 Guest(s)