Kevin Prince Boateng hairstyle: epic Mohawk haircut style with pictures
12-29-2013, 11:05 AM
Post: #1
Jurgen
Super Moderator


Posts: 785
Joined: May 2013
Kevin Prince Boateng hairstyle: epic Mohawk haircut style with pictures
Kevin Prince Boateng is a German football player who has been styling a Mohawk hairstyle for some time now. Boateng's parents are from Ghana so Kevin Prince Boateng has kinky curly hair. He has had several haircuts and hairstyles but the Mohawk was the hairstyle that he wore for the longest when he was at A.C. Milan.
Because doing a Mohawk hairstyle with kinky curly hair is very difficult, what Kevin Prince Boateng then does is straighten his hair first and then use hair gel and hair spray to style his kinky curly hair up in a Mohawk!
Pictures of Kevin Prince Boateng Mohawk hairstyle
Boateng got the Mohawk haircut style idea when he was playing for A.C. Milan from his teammate
Stephan El Shaarawy
who also had a Mohawk hairstyle!
12-29-2013, 11:21 AM
Post: #2
Jurgen
Super Moderator


Posts: 785
Joined: May 2013
RE: Kevin Prince Boateng hairstyle: epic Mohawk haircut style with pictures
More pics
This is a picture of Kevin Boateng with his friend Stephan El Shaarawy. They are both celebrating a goal and both have Mohawk hairstyles!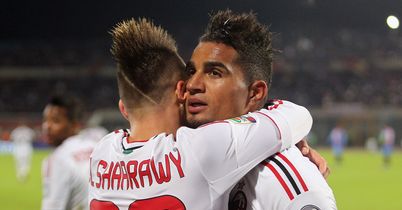 Hair products for the Mohawk hairstyle of Kevin Prince Boateng
To do the Mohawk you first need the right haircut with a good hair clipper. You will need to buzz all the hair in your head except for a fine line of hair running across the middle of the top of your head. You can have the Mohawk line go through the middle of your back of the head although Kevin Prince Boateng does his Mohawk with only the hair on the top of his head.
To style the Mohawk, you will need to straighten the hair first with a good hair straightener and then use your fingers and a comb to shape the hair in a triangle when you see your face from the front in the mirror (this is very easy to do). You need to use hair gel and hair spray to make sure the Mohawk stays hard and up.
Recommended hair products
This cordless hair clipper
: this recommended hair clipper is cordless and the battery lasts very long up to one hour clipping thick hair without stopping and it will also clip the thickest hair possible! It is one of the best hair clippers you can get and it comes with a full set of everything you need for any future haircuts you want. The cost is a bit high but you will be paying for top range quality
This hair straightener
: excellent straighter (aka flat iron) to keep your hair straightened and be able to do all kind of shapes and designs with your Mohawk. The flat iron in the link is especially useful for men as it goes great with short to medium length men's hair.
This heat protectant
(coat your hair with this heat protectant before using the hair straightener to straighten the hair of the Mohawk)
This hair gel
(use it to shape and give the styling to the crest of your 'Hawk)
This hair spray
(finish the Mohawk by using the hair spray right after the hair gel).
If you get the hair products recommended above you will get an epic Kevin Prince Boateng hairstyle!
User(s) browsing this thread: 1 Guest(s)