Joakim Noah hair, hairstyles and haircuts - Curly hair everywhere!
04-01-2014, 03:00 PM
Post: #1
Jurgen
Super Moderator


Posts: 785
Joined: May 2013
Joakim Noah hair, hairstyles and haircuts - Curly hair everywhere!
Let's specifically discuss Joakim Noah's hair, hairstyles and haircuts in this thread. Feel free to post more pictures of his hair in this thread.
Joakim Noah is an NBA player who is known for his long curly hair. Noah's curly hair has taken him many years to grow & he usually wears it tied into a
man bun
or ponytail during games and wears it loose outside the court.
Pictures of Joakim Noah's long curly hair styles
Noah's hair type is curly coiled according to the famous
ISEZ hair type method
from
The Men's Hair Book
. His hair length is longer than shoulder length & he is a brunet.
The ponytail is a very convenient style to wear for long curls. Just tie them & ready to go!
But with curly hair, the ponytail is usually very fluffy & circular, so much different to ponytails with straight hair.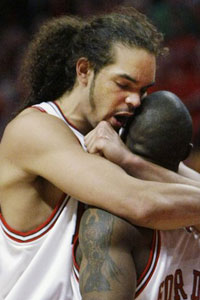 Joakim Noah man bun is possibly one of the first man buns with curly hair - with exception of curly king Rogelio
Noah likes to tie his hair in a bun for games too & he will sometimes do a ponybun which is a half bun & half ponytail.
Jared Leto
wore the ponybun recently at the 2014 Golden Globe awards.
Back to our curly NBA player, yeah, he loves his curly buns!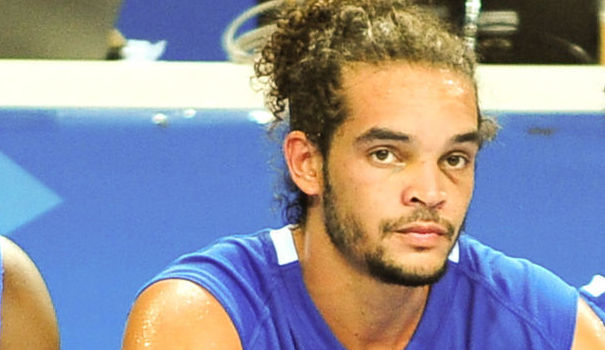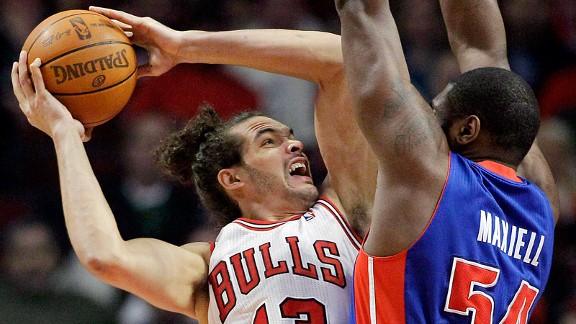 Joakim Noah's curls are free to hang from his head when he is not playing a game. He prefers to keeps his curvy locks in a flatter & less volume styled look with a wet look effect, although he will sometimes go crazy & just let the frizz take over lol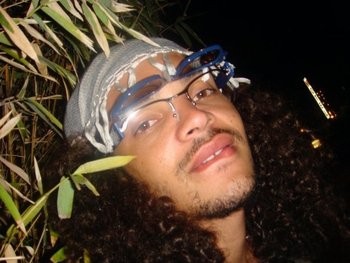 The Guide continues below in the next post.
04-01-2014, 03:00 PM
Post: #2
Jurgen
Super Moderator


Posts: 785
Joined: May 2013
RE: Joakim Noah hair, hairstyles and haircuts - Curly hair everywhere!
Short hair to medium length hair
Yes Joakim Noah had
short hair
& medium length hair at some point in his life but not even his mother knows. However we have pictures of a young Joakim Noah with short hair & medium length curly hair similar to the shake & go hairstyle - aka dangling afro - that Lenny Kravitz & Rogelio made popular.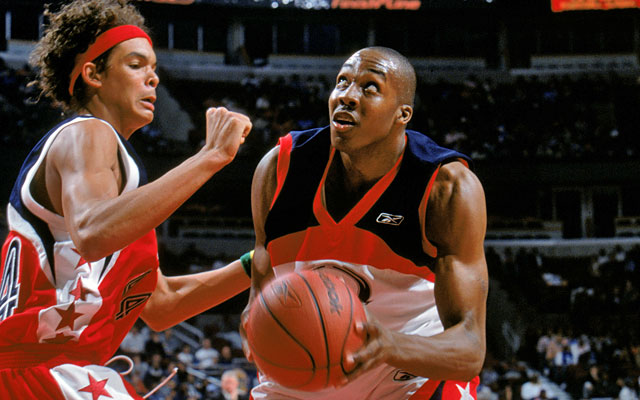 How to get the look
Curly hair can be a bit of a pain to manage & grow. First you need patience & then the right hair products. For curly hair, styling creams are excellent & also mousse. A hair dryer can be used to define the volume but a diffuser must be attached to the hair dryer when blow drying the hair. Forget about wax or pomades for curly hair if you want hair like the one of Joakim Noah, you need a styling cream, a mousse, a good conditioner & a good leave-in conditioner.
Recommended products
(click each link)
-
This regular conditioner:
a regular conditioner like the one in the link should be used at least 3 times per week. During shower time just coat your hair with the conditioner like you do with your shampoo shampoo, but then leave the conditioner for 2 minutes as you continue showering the rest of your body. After the 2 minutes are over, wash the conditioner off like you do with shampoo. I highly recommend you to get the one in the link, it's great for curls & it's a very big product so it will last you a very long time.
-
This styling cream:
if you want to have your hair loose & smooth, go with the styling cream in the link. It will leave your hair moisturized and feeling natural but also sleek. Perfect for curly men with frizzy manes!
-
This hair mousse:
get this hair mousse in the link if you want maximum definition of your curls but also want big volume for your curls. The recommended mousse will give some sleek so your curls look healthy!
-
This hair dryer:
if you want to take advantage of the curly definition and big hair volume you get with the hair mousse, then the hair dryer in the link is prefect. This recommended hair dryer protects your hair from the heat that regular hair dryers will actually fry your hair with
the recommended hair dryer will also tame any frizz too so you will end up with a lot of volume on defined lustrous curls that are 100% NO frizz! lastly this recommended air dryer is perfect for any other hairstyles & even for just drying your hair faster before leaving your house. Get it, it's worth the money & the dryer will last you years - BTW get the
accessory diffuser too
- click link - which you only clip into the hair dryer & start drying & styling your curls
-
This Leave-in conditioner:
any time that you want to wear your hair naturally without any more styling or wanting sleek, shine or super maximum definition, just use some of the leave-in conditioner in the link. It will keep your curly hair moisturized, frizz free & defined + no tangles - which is a big issue for curly men with long hair
the recommended leave-in conditioner is a great all round product & you don't wash it off like a regular conditioner. Just use the leave-in conditioner like a styling cram or mousse - that is... to style your hair naturally!
-
The Curly Hair Book:
if your hair looks like you are wearing a 'dead rat' or rat's nest' on top of your head... then stop dude. Click the link & get The Curly Hair Book. Take a couple of days to read it a you wait for the other recommended products to get to your house. Once you have finished reading the book, your mind will be so blown & full of knowledge learnt from the book that in just a week of making use of all the knowledge the book taught you & the products you bought, your curls will look epic and 'luscious' like Rogelio calls them in the book
there is a reason The Curly Hair Book is the one and only recommended book for curly dudes + it was written by Rogelio, who has been the number 1 source of BS free hair advice for men for years.
So this has been a huge guide about Joakim Noah's curly hair & all his hairstyles. By getting all the above products you will have the solid base of products to last you months & with The Curly Hair Book you can get everything fired & done fast.
I hope you have enjoyed this & put all the tools above to use so you start growing an epic curly mane!
04-02-2014, 02:53 PM
Post: #3
Machado
Super Poster

Posts: 156
Joined: May 2013
RE: Joakim Noah hair, hairstyles and haircuts - Curly hair everywhere!
wow so much hair even when Noah had short hair.
Also in the mens hair book I remember reading that curly hair of the coiled type can be like twice as long in the visible position compared to the extended position so his hair has gotta be so much longer when it is wet. Cool thing I like about curly hair is how big it can be and if you control it... damn it can give extra swagger points to a dude!
User(s) browsing this thread: 1 Guest(s)