James Blake Hair - From Dreadlocks Hairstyle to Shaved Head
05-10-2014, 12:37 PM
Post: #1
Jurgen
Super Moderator


Posts: 785
Joined: May 2013
James Blake Hair - From Dreadlocks Hairstyle to Shaved Head
James Blake is a former American tennis player who used to wear dreadlocks. James Blake's hair was kinky curly & in dreadlocks until he shaved it off. He radically changed his image when he shaved his locks even tho he probably was more famous for his locks than for his tennis play.
If you look carefully at the pictures of James Blake's hair shaved - see them below - you can see that he is suffering from
male pattern baldness
. Also known as MPB, this hair loss condition affects 2/3 of men by age 60 so it is pretty normal.
Here at Men's Hair Forum we believe that the reason for James Blake shaving his hair was due to his harsh male pattern baldness, the same way Andre Agassi shaved his long mane many years ago as his MPB was also harsh. Actually when a guy known for his 'mane'
shaves his hair
out of a sudden, that is usually a sign that he is suffering from MPB & he cannot hide it anymore - Andre Agassi shaved his hair when he could not hide his hair loss any more & it was either shaving his head or wearing a wig permanently.
Pictures of James Blake hair
His hair was actually pretty cool & was locked in a clean
dreadlocks
hairstyle - unlike the 'dirty looking' dreadlocks most guys get. Blake was actually known for his kinky curly mane & had a good amount of fans just because of the hair
so here - for you to check out - are some pictures of James Blake's hair - in his good old days btw:
Below are pictures of James Blake's shaved hair. Big difference & you can tell the hair loss on the front. Unfortunately his MPB progressed very fast.
05-10-2014, 12:47 PM
Post: #2
Jurgen
Super Moderator


Posts: 785
Joined: May 2013
RE: James Blake Hair - From Dreadlocks Hairstyle to Shaved Head
A few more pictures below including one where you can see the change side to side of the hair of James Blake. There is also a picture from when he had his hair in braids as a teenager.
Also if anyone is interested, we have a huge thread on
Rafa Nadal's hair loss
too although in Rafa Nada's hair loss case, he suffers from another type of balding.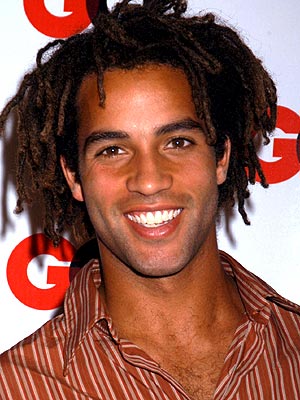 05-11-2014, 11:23 AM
Post: #3
Alex
Looking fly

Posts: 207
Joined: May 2013
RE: James Blake Hair - From Dreadlocks Hairstyle to Shaved Head
not that I follow tennis much but i remember when James Blake shaved his hair. Lots of people had no clue myself included for his decision. Looking at the pictures you posted Jurgen it makes sense as the hair thinning can be spotted so good pics you posted! now it makes sense why he would shave his head.
I know a couple of tennis ladies who were in love with this guy when he had the poster boy looks with his curls so i will be telling them the truth of the matter now about Blake and his head shaving
User(s) browsing this thread: 1 Guest(s)