Jake Gyllenhaal hairstyle - Slicked Back Hair Style Pictures
08-24-2014, 12:27 PM
Post: #1
Jake Gyllenhaal hairstyle - Slicked Back Hair Style Pictures
I am posting below a set of pictures of Jake Gyllenhaal's hair in a slicked back hairstyle. This particular hair style is well suited for a classic look and it's one that Gyllenhaal himself has gone back to repeatedly. As Detective Loki in the 2013 Prisoners movie,
Jake Gyllenhaal's haircut
was a slicked back Undercut, which is a very neat hairstyle for medium length hair.
For the most part, Jake Gyllenhaal's haircuts have been medium length, although he sported a cool
High and Tight
for the 2005 Jarhead movie. Lately, Jake Gyllenhaal's hair has been at a long length and grown from a
slicked back hairstyle
. Ergo I am posting below pictures of his slicked back hair to give you folks yet another reference for this classic men's hairstyle.
For what's worth, Jake Gyllenhaal's slicked back hair is in the classic version of the slick back, not in the modern version. In some of the pics he looks different due to a drastic weight loss he went through for a movie role.
If you want to recreate the same slicked back hairstyle of Jake Gyllenhaal, then the perfect product to use is
THIS pomade
. It's affordable, has a strong hold and will yield the same texture and look as the hairstyle pictures of him below.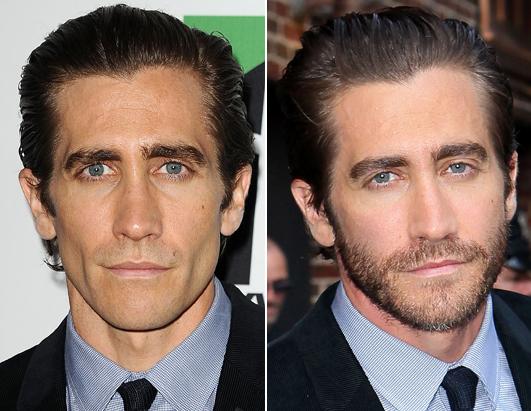 ---
I'm one of the admins of this forum. Any questions/issue? Contact me directly or any of the moderators. We welcome any feedback to improve our community.

You can also check out our forum's

BEST HAIR PRODUCTS FOR MEN

thread to read opinions and useful information on men's hair products.
01-09-2017, 08:31 PM
Post: #2
iansoccer17
Nicolas Cage's hair wannabe

Posts: 1
Joined: Jan 2017
RE: Jake Gyllenhaal hairstyle - Slicked Back Hair Style Pictures
How long in inches is his hair?
User(s) browsing this thread: 1 Guest(s)