How to style Zack Morris hair
05-03-2014, 01:24 PM
Post: #1
Machado
Super Poster

Posts: 156
Joined: May 2013
How to style Zack Morris hair
Any of you remember Saved by the Bell? if so, any forum experts can tell us how to style Zack Morris hair? I will post pictures of his side parted hairstyle which he was known for and had the ladies melted. I am too young to really remember the episodes but I have since some reruns. Also from my digging out of info it was Zack Morris hairstyle that made him a poster boy. Similar to Jason Priestley in 90210 with his hair as Brandon Walsh
Actually while the trademark hairstyle of Zack Morris was the side parted hair... he had at some times also his hair combed back in a slick. More interested in the side part as it looks so thick and healthy. Also is the haircut more like a taper?
Many thanks 4 any answers, i am sure many of you will remember him from Saved by The Bell! and in case any one is not aware... his real name is Mark-Paul Gosselaar but he changed completely form his years at Saved by the Bell.
05-04-2014, 10:56 AM
Post: #2
RE: How to style Zack Morris hair
Seems as though, during the couple of days I was away, we got an avalanche of "how to style my hair like X celebrity" threads
Or maybe it is that I am used to them and since I was away from the forum for a couple of days my mind simply disconnected
Anyway, let's see how we can go about your hairstyle enquiry, Machado.
To begin with, Mark-Paul Gosselaar in the early 1990s as Zack Morris had an impressive mane. It is common for teenage males to have impressive hair, only to lose that "impressive look" as they grow older into their 20s and 30s. In fact, you can tell this happened to Mark-Paul Gosselaar as he went from having Zack Morris' hair, to having receding hairlines (have a look at our
hair loss
section for more examples) as well as somewhat ratty-like hair (i.e. not an impressive mane anymore).
This below is a comparison pictures between Mark-Paul Gosselaar at "Saved By The Bell" and Mark-Paul Gosselaar at present:
In other words, teenage males usually have it lucky when it comes to their hair until they get to age 25 or so when the hairline matures and the final hairline and hair density sets in (and about 2/3 of the men from there onwards will go bald by age 60). Zack Morris had an impressive hair density and fullness that you're either born with or you're not, although he also looks to have had quite a bit of retouching on his hair back in his "Saved By The Bell Days", as closer pictures show if you have a trained eye for the kind of styling retouching that male actors get on their hair. Obviously, during those years, Mark-Paul Gosselaar's hair was one of his main assets, so it is no surprise that they took great care of his hair.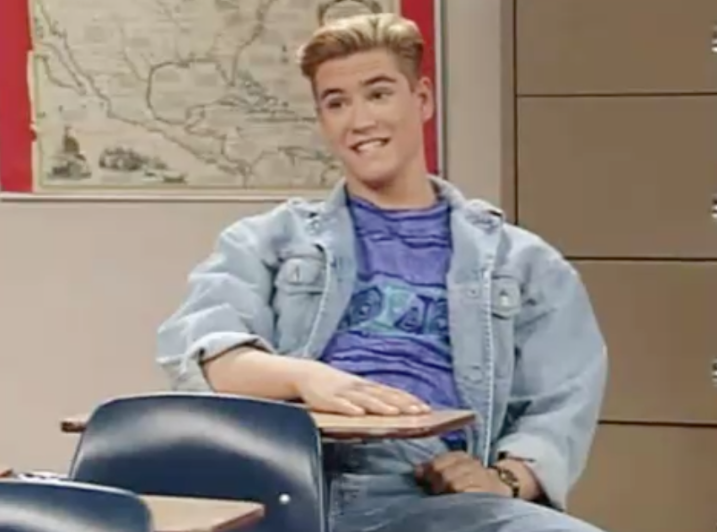 For starters, if you want to have Zack Morris' hair, you need to have
straight hair or wavy hair
and to also have hair that is 4 to 6 inches long. If your hair is shorter, then you need to grow it longer so check our
hair length guide
for the growth time spans and characteristics.
About the side swept hairstyle of Zack Morris, that's easily done with a good hair mousse and a hair dryer. I am not saying that you will get that impressive fullness of of Zack Morris' hairstyle, but you will certainly get the shape and volume, since the combination of a hair dryer and hair mousse is a killer for hair volume.
Usually a side swept is done with a
good pomade
, but the pomade will weigh down the hair too much, especially if you don't have a fantastically-high hair density like Morris had in "Saved By The Bell". Get yourself a good hair mousse that is designed for styling and volume (
this hair mousse
is the one we suggest for this) and also get yourself a high-quality hair dryer that has extra benefits of taming frizz and defining the shape (
this is the hair dryer
we suggest for this and which will be an excellent purchase for your hair styling).
About styling the hair, then that's very easy and you can have a read through our
side swept hairstyle
guide. Just coat the hair in mousse first (hair has to be damp), then part the hair as you see in the pictures of Zack Morris hair, then grab a hair dryer and a comb, and start combing the hair with the hair dryer blowing air towards the hair section you are combing.
With regards to the slicked back hair of Zack Morris, that's a modern slick back, as we call it here in the forum. The best you can do is to go through our
slicked back hair guide
and learn about slicking hair back and the two types of back slicking we have: classic and modern. In the case of Morris, his slick back is a modern slick, which is very easy to do with a hair dryer too. If you really want to do these 2 hairstyles of Zack Morris, then I suggest that you get the hair dryer in the link above anyway because that hair dryer is super useful for styling men's hair and for
lots of other hairstyles
.
About Zack Morris haircut, that's a long
taper haircut
that was so typical of the 1990s. Just ask your barber or hairdresser for a "long taper haircut" and they will know what you mean.
In conclusion, you can certainly get a big-volume side swept hairstyle similar to that of Zack Morris in "Saved By The Bell". However, unless you have an exceptionally-high hair density, then you will not be getting as much fullness, but you will still be getting some very-good volume in the side part with the hair mousse and hair dryer recommended.
Having said the above, there are certainly some men who do have such high hair densities and we have seen example of forum members with very-high hair densities like
the hair of Aesthetix29
, so you yourself (or anyone reading this) could have that hair density. Whatever the hair density you have (which only a trained eye like the one of our staff can tell), just follow the instruction in my post to get that kind of big style side part of Zack Morris
---
I'm one of the admins of this forum. Any questions/issue? Contact me directly or any of the moderators. We welcome any feedback to improve our community.

You can also check out our forum's

BEST HAIR PRODUCTS FOR MEN

thread to read opinions and useful information on men's hair products.
07-26-2014, 03:13 PM
Post: #3
jrode
Nicolas Cage's hair wannabe

Posts: 6
Joined: Jul 2014
RE: How to style Zack Morris hair
I'm interested in getting Mark-Paul Gosselaar's current style, but I can't seem to post an image.
Just wondering what length I need to get it to, what I should ask the stylist for when I get it to that length, etc.
User(s) browsing this thread: 1 Guest(s)