How to do Alvaro Negredo hairstyle
07-20-2014, 11:13 AM
Post: #1
Machado
Super Poster

Posts: 156
Joined: May 2013
How to do Alvaro Negredo hairstyle
Alvaro Negredo hairstyle has that wide razor line but am still unsure how to do it. Anybody know the name of Alvaro Negredos hairstyle? like what haircut it is? is it like the haircut of Gareth Bale? i think i read in the forum that the line thru the head was done with a razor or an electric trimmer but dunno for sure. Cristiano Ronaldo also got the same razor line on his head sum weeks ago.
Here are some pictures of his haircut... would appreciate any help with the name or how to do the Alvaro Negredo hairstyle!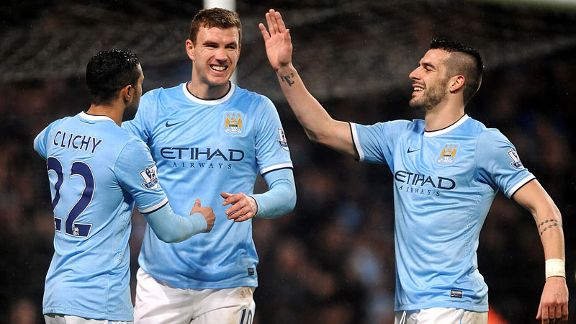 07-21-2014, 12:00 PM
Post: #2
Jurgen
Super Moderator


Posts: 785
Joined: May 2013
RE: How to do Alvaro Negredo hairstyle
The hairstyle of Alvaro Negredo is just an undercut. Actually Negredo's hairstyle is similar to the
undercut hairstyle of Gareth Bale
including the part in with the trimmer. Just ask for an undercut at your barbershop & then say that you want to be parting your hair to the right with volume, so leave about 5 centimeters or 2 inches of length on the top of the head.
The part in line at his left temple - left top of the head - that looks like a 'shaved line' is actually done with a special trimming tool called a T outliner. It is very easy to give yourself these part lines if you have your own T outliner btw. A T outliner is also a cool hairstyling tool to own for trimming your beard, shaping up your hairline & sideburns, retouching your facial hair etc not to mention that a top T outliner is still affordable - which can't be said of the top hair clippers
Tell your barber to give you a part in line when he cuts your undercut. However to keep the part in maintained, you don't need to spend money on more visits to the barber. Just get yourself - if you don't have already - a T outliner & clip the line every 3 days so it looks shaved.
For an excellent top T outliner, we recommend
this one from Andis
. This T outliner will last you years but you also want to keep it in good condition by greasing it a little every couple of weeks with
this lubricating oil
& also by quickly cleaning it every couple of weeks with
this cleaning product
.
If you are interested in short haircuts like the undercut hairstyle of Alvaro Negredo, then for sure get the T outliner as it will help you to shape your short cuts in really cool ways!
User(s) browsing this thread: 1 Guest(s)