High fade haircut help with best hairstyle and receding hairline
09-30-2015, 10:19 PM
(This post was last modified: 09-30-2015 10:20 PM by Cloverpopper.)
Post: #1
High fade haircut help with best hairstyle and receding hairline
Hi guys.
I'm sporting a high fade right now, short and manageable. I love the way it looks from the front, but I can't work any style to get it looking right from the side with the odd shape of my face.
Also wondering if you guys think my hairline is receding. Any help is appreciated, much love and thank you.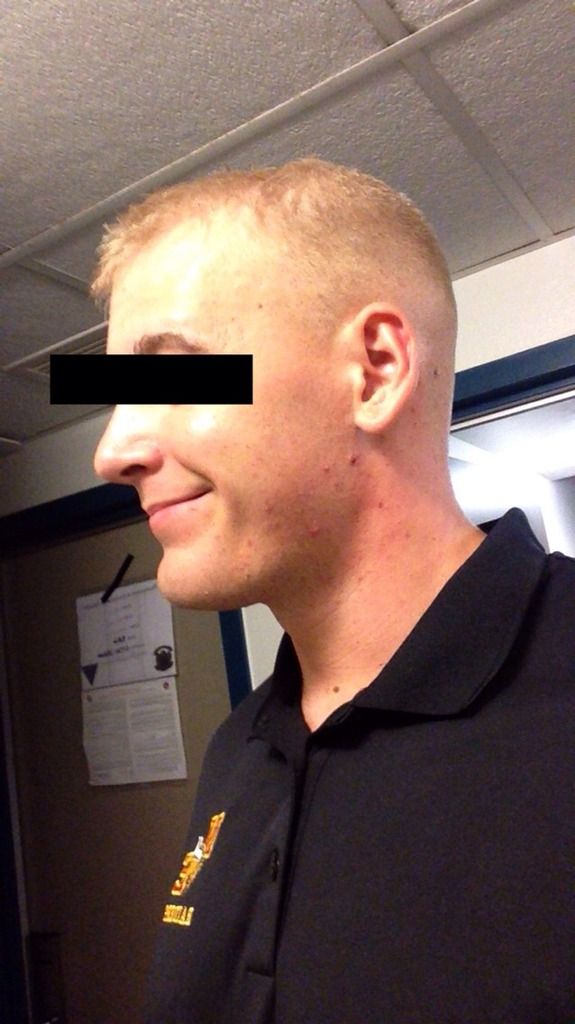 10-04-2015, 07:59 AM
Post: #2
Combine your high fade haircut with a Quiff hairstyle or get an Ivy League style!
Welcome to the forum! I've upgraded your account so that you can post more pictures if you want and I edited your posted pictures so as to embed them in your initial post.
The advantage of a high fade haircut is, as you say, that it provides a clean and sharp look where it matters, which is on the sides and back of the head. There isn't a stipulated length of hair for the top of the head, and you only need to look at hairstyles like the High Top Fade haircut to realize how long one's own hair can really be with a highly-faded cut.
If you want to keep the current hair length on the top of your head, my advice is to simply use a good hair wax to style the front of your head up and to the side. The upward-styling of the hair at the forelock (i.e. the hair at the front of the head) is known as a
Quiff hairstyle
and as such, a Quiff hairstyle can be completely styled up and vertical to the scalp, or it can be styled up and angled (i.e. the latter being what I recommend with your current hair length).
If I'm seeing things right, do, in fact, sport an Ivy League haircut as the hair at the forelock is longer than the hair at the crown (i.e. the back of the top of your head). See our
Ivy League haircut guide
for many ideas on how to style an Ivy League cut, but, as a rule of thumb, the hair at the forelock is not to surpass the hair-length mark of 2 inches. With such a short length of hair (i.e. only 2 inches), you're pretty much limited to "Quiff-ing" the forelock.
In any case, do also go through our
Buzz Cut hairstyles guide
to see other short haircuts similar to the one that you currently sport so as to get other hair-styling ideas. You may even change you mind about you haircut and go for something else.
Consider you head shape and your hair type, you can try the
Caesar haircut
which has the hair on the top trimmed in a similar manner as to your current hair and which also had the forelock styled forward as bangs. See the link I posted as it will take you to our popular Caesar haircut guide.
One more cool haircut to consider is the High and Tight haircut. This is a military haircut that would suit you very well. See our
High and Tight haircut guide
for more on how to buzz the sides and back of the head while keeping the hair on the top at a short-enough length. The High and Tight haircut is one of those men's haircuts that always looks right and I can tell from your facial features that it will look good on you.
One advantage of the High and Tight haircut over your current high fade haircut is that a High and Tight can be done at home by yourself. All that you need to give yourself a great High and Tight is a
good hair clipper
(see the link for our hair clipper recommendations) to buzz through the sides and back of your head with a very-short hair clipper length (usually a "number 0" to a "number 2" length). The hair on the top of the head is buzzed with 2 hair-clipper lengths higher than what you've used on the sides and back of the head. For example, if you buzzed the sides and back with a "number 1" length, then you'd buzzed the top with a "number 3" length.
As far as your hairline is concerned, it looks to be healthy and non-receding. We always recommend posting pictures of one's hairline during his teenage years as that's the best way to see if the receding is simply the maturing of the hairline or if it is male pattern baldness indeed.
---
I'm one of the admins of this forum. Any questions/issue? Contact me directly or any of the moderators. We welcome any feedback to improve our community.

You can also check out our forum's

BEST HAIR PRODUCTS FOR MEN

thread to read opinions and useful information on men's hair products.
User(s) browsing this thread: 1 Guest(s)