Haircut from Dean in The Green Mile
07-16-2014, 09:16 AM
Post: #1
herehair
Super Poster

Posts: 81
Joined: Jan 2014
Haircut from Dean in The Green Mile
just watched the green mile yesterday and i was impressed, just also wanted to know what haircut did dean have and how do i get this style?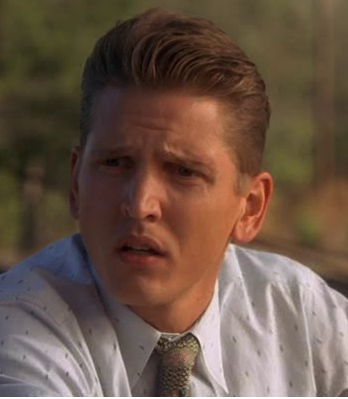 07-18-2014, 01:19 PM
Post: #2
RE: Haircut from Dean in The Green Mile
The haircut of Barry Pepper as Dean in The Green Mile is an
Ivy League haircut
. Are those pictures of his hair all from The Green Mile? I am asking since Pepper's hair appears longer in some pictures.
In any case, that's a clean and sharp Ivy league haircut. Any barber will be able to cut an Ivy League haircut which is similar to a taper haircut, only that in the Ivy League cut the hair on the top's forelock is slightly longer.
To style an Ivy League, all you need is a solid men's comb (like
this one
) and either some matter hair wax (like
this one
) or some water-based pomade that is easy to clean and doesn't give much shine (
this one
goes great for an Ivy League). Just part the hair, and you're set!
For what is worth, we have plenty of hairstyle advice in this forum on the Ivy League, but feel free to ask anything related to this male haircut.
---
I'm one of the admins of this forum. Any questions/issue? Contact me directly or any of the moderators. We welcome any feedback to improve our community.

You can also check out our forum's

BEST HAIR PRODUCTS FOR MEN

thread to read opinions and useful information on men's hair products.
07-20-2014, 11:25 AM
Post: #3
Machado
Super Poster

Posts: 156
Joined: May 2013
RE: Haircut from Dean in The Green Mile
i am not an expert but i have learned a lot about hairstyles thanks to this forum. To me it also looks like the ivy league haircut. Question... if there was no taper on the top of the head would that haircut then be a businessman haircut?
User(s) browsing this thread: 1 Guest(s)