Gary Barlow haircut, hairstyles and hair - Guide with Pictures
02-28-2014, 01:55 PM
Post: #1
Jurgen
Super Moderator


Posts: 785
Joined: May 2013
Gary Barlow haircut, hairstyles and hair - Guide with Pictures
Let's specifically discuss Gary Barlow's hairstyles, haircuts and hair in this thread. Feel free to post more pictures of his hair in this thread or discuss anything related to his fashion sense or look.
Gary Barlow is a famous British singer who was known for being in the band "Take That". He has been changing his hair styles all along his career and the latest of Gary Barlow's haircut is the undercut.
Let's have a look at all the looks he has had over the years.
Pictures of Gary Barlow haircuts, hairstyles and hair
Since he has
straight hair
, he has played with styles such as side parts, undercuts, flat top styles and spikes. The undercut and the Ivy League are the two haircuts that Gary Barlow always goes back now these days.
Mullet
Yes, on of the earliest hairstyles of Gary Barlow was the mullet
Spiky hair
He also had spiky hair which was usually messy and cut as a shag.
Flat Top
During some time, he also had a
flat top haircut
and was the only one of Take That to sport that particular military haircut.
Messy style
Barlow would use tousle his hair with some wax and create a cool
messy hairstyle
for his straight locks.
Shaggy cut
Product of the 90s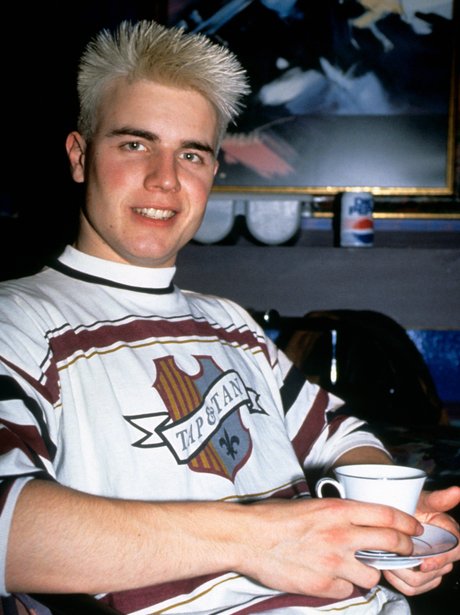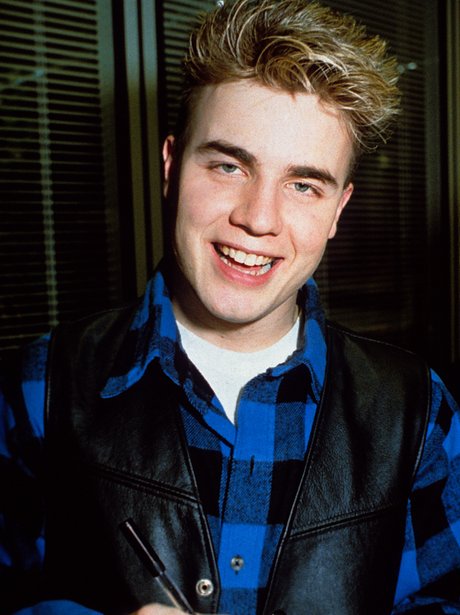 Side swept
Gary Barlow also likes the
side swept hairstyle
. Using some pomade, the hair is combed to the side & usually done with an undercut or Ivy league cut (see next haircut title)
Ivy League haircut
As he has aged, Gary has been going for more classic haircuts like the Ivy League haircut.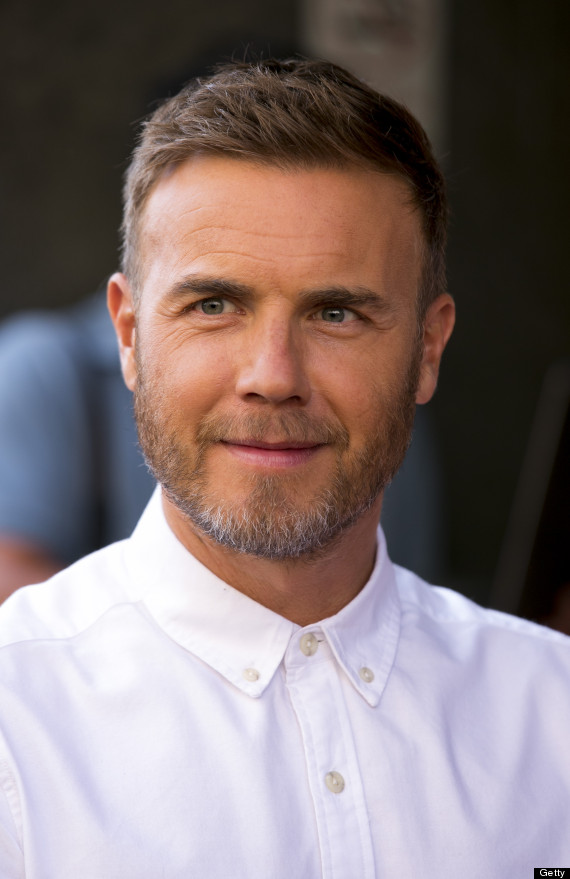 Undercut
One of the most favourite hairstyles of Gary Barlow is the
undercut
. He has the sides and back clipped with no comb or just a number 1 as the top is left to about 1 to 2 inches. The top is parted to the side for a very cool and trendy undercut.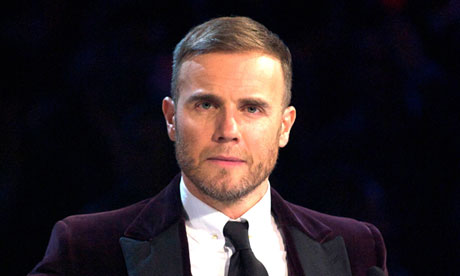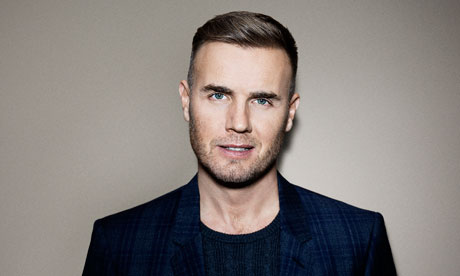 Get the look
The products to use are wax, pomade, gel, hair spray and a good hair clipper. Basic although you need to make sure you have good products for each of these
- Get
this hair wax:
great for messy hairstyles, shaggy cuts and controlling your hair with a more natural look. Can also be used for the flat top style.
- Get
this pomade:
goes evry well for side swept styles and for slicking or styling an undercut. The pomade in the link will provide a cool wet effect without making your hair look greasy. A very recommended pomade
- Get
this hair gel:
this hair gel is a great gel that will ive your hair a strong appearance, a bit drier than the wax. Great for getting spikes and the flattop.
- Get
this hair spray:
it is always important to have hair spray! the spray in the link will help you to lock the final shape of the style you choose to get but will also give flexibility so the hair appears more natural looking. Great hair spray for sure!
- Get
this men's comb:
this comb is handmade and a classic among classics. Throw away your cheap plastic comb and get a real male comb
- Get
this hair clipper:
this cordless hair clipper in the link is a premium top-end clipper with a lot of power and a very long lasting battery
it comes with everything you need to cut your hair in all kinds of styles & shapes you want. You dont need to buy anything else or extra accessories, the clipper comes even with a hard case to keep it for traveling! we highly recommend this hair clipper in the forum and it will go really well for getting the undercut or Ivy league cut.
02-28-2014, 02:15 PM
Post: #2
Jurgen
Super Moderator


Posts: 785
Joined: May 2013
RE: Gary Barlow haircut, hairstyles and hair - Guide with Pictures
Some more pictures.
Side part with taper haircut
This is a messy side part with a taper cut. This is the kind of convertible haircut we talked about in the
taper haircut guide
we published in the forum. With this cut you can change the styling in a minute to something really different but in the case of Barlow he has always had a thing for side parts and side combs.
He also does the messy side part when he doesn't have a beard. So a clean shaven Gary Barlow equals messy side comb with a taper haircut
Medium length layers
Barlow has normally kept to a short hair length. However he has grown his hair a bit longer in the past especially when he was young and touring with Take That. Here is a picture with his locks wet and in messy layers:
Quiff
This style requires the hair on the front to be lifted up over the rest of the hair on the top. use the hair wax I recommended in the previous post as it is perfect for styling a quiff.
02-28-2014, 03:36 PM
Post: #3
RE: Gary Barlow haircut, hairstyles and hair - Guide with Pictures
Big J, that's an excellent styling guide, pal. And the hair products are spot on, great recommendations!
The one thing I would say is that you may have just as well missed out on the best pictures of Gary Barlow. You see, back in his Take That days, him and the rest of the crew would try just about anything when it came to fashion.
What you're about to see, may not be unseen
It's Gary Barlow with blond bleached hair and a shaggy cut, the reminiscence of the nineties (and of Vanilla Ice
)!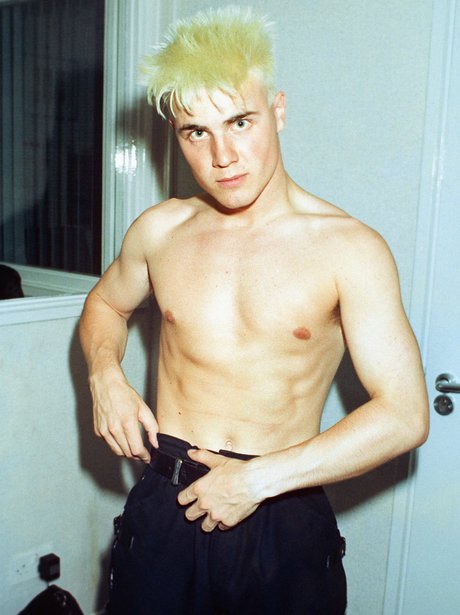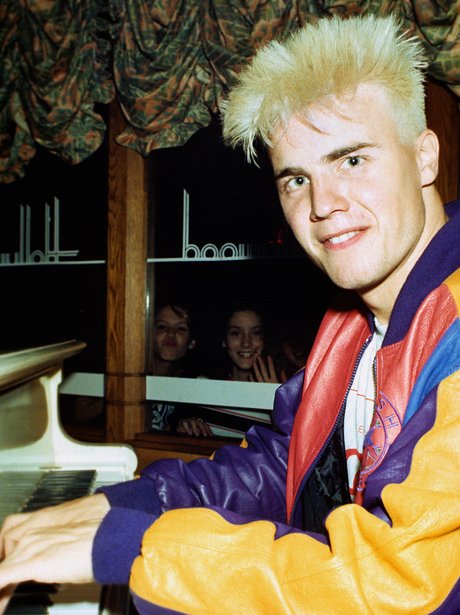 ---
I'm one of the admins of this forum. Any questions/issue? Contact me directly or any of the moderators. We welcome any feedback to improve our community.

You can also check out our forum's

BEST HAIR PRODUCTS FOR MEN

thread to read opinions and useful information on men's hair products.
02-28-2014, 05:02 PM
Post: #4
Anton
Pompadours & Rock

Posts: 126
Joined: May 2013
RE: Gary Barlow haircut, hairstyles and hair - Guide with Pictures
Cheers 4 the guide Jurgen and for the help you gave me on the other thread on of his haircuts. Really like the ivy league but with medium length hair it would be a matter of having to cut the hair and in my case it grows too slow ffs
The guide also reminded me that i need to stock up on hair products as i have those you posted but i am running out of them. So best to buy them all in one go as amazon has some freaking awesome offers on those products you posted and shipping to the Uk from the States with amazon is pretty neat anyway.
(02-28-2014 03:36 PM)

TheMensHairForum Wrote:
Mind blown...
03-12-2014, 12:50 AM
Post: #5
SurveenA4
Registered User

Posts: 30
Joined: Feb 2014
RE: Gary Barlow haircut, hairstyles and hair - Guide with Pictures
i don't like it at all, it is just so weird
User(s) browsing this thread: 1 Guest(s)