Gareth Bale hairstyle with Headband and Slicked Back Hair
07-21-2014, 07:16 AM
Post: #1
Jurgen
Super Moderator


Posts: 785
Joined: May 2013
Gareth Bale hairstyle with Headband and Slicked Back Hair
Here is a picture of Gareth Bale's hairstyle with a headband accessory. Actually the headband on Gareth Bale's hair is the same that David Beckham had in his hair some years ago. The name of this type of headband is the Alice band. It is a rigid head band that pulls the hair back.
So
Gareth Bale's hair
is pulled back in a
slicked back hairstyle
with an Alice band. This is the first time that we see Gareth Bale with a headband hairstyle & Bale looks to have grown his undercut hairstyle that he wore in 2013 to 2014 at Real Madrid. Maybe Bale will follow the same hairstyle steps like
David Beckham
at Real Madrid & start bleaching his hair?
The picture below is a picture of an alice band. If you are interested, you can get an alice band for men
in this link
. The alice band is pretty cheap so have a look at the other
hair products we recommend
in this forum - see the link - so you can order the alice band when you make a new big order
If you're in the UK or Europe, you can also get the Alice band from
THIS vendor
.
07-24-2014, 05:32 AM
Post: #2
Jurgen
Super Moderator


Posts: 785
Joined: May 2013
RE: Gareth Bale hairstyle with Headband and Slicked Back Hair
Real Madrid is in the United States for some training. Guessing that Bale wants to be the new Beckham in the USA with the alice band because he keeps wearing the damn thing lol
The last picture is with Pepe before
Pepe's hair
turned into a growing Christmas tree.
07-27-2014, 01:24 PM
Post: #3
RE: Gareth Bale hairstyle with Headband and Slicked Back Hair
Jurgen, just Gareth Bale's headband today. Real Madrid is in the United States and the played a friendly match against Inter Milan, right?
Looks as though Bale is keeping his Alice band even during matches. Not to sure about using plastic bands like Alice bands during physical sports. Usually soccer players wear
headbands or hairbands
to keep their hair tight and due to the harmless nature of headbands. But something made of plastic or metal? Not too sure (plus if may get stuck on the hair if the player heads a ball, for example).
Here are a couple more pictures of Gareth Bale's hair in an Alice headband. By the way, Pepe shaved his awful dreadlocks a day after you posted his thread
The guy must have been reading our forum for feedback LOL
---
I'm one of the admins of this forum. Any questions/issue? Contact me directly or any of the moderators. We welcome any feedback to improve our community.

You can also check out our forum's

BEST HAIR PRODUCTS FOR MEN

thread to read opinions and useful information on men's hair products.
09-13-2014, 08:13 AM
Post: #4
Jurgen
Super Moderator


Posts: 785
Joined: May 2013
Gareth Bale hair with alice band.
More pictures of Gareth Bale hair slicked back with an alice band.
Look like he really likes it as he has appear in every match since this thread with the same alice band.
10-04-2014, 06:50 AM
Post: #5
Jurgen
Super Moderator


Posts: 785
Joined: May 2013
Bale with longer slicked back hair.
It is October now & Gareth Bale continues to use the alice band for his slicked back hair. Gareth Bale seems to be growing his hair long again too.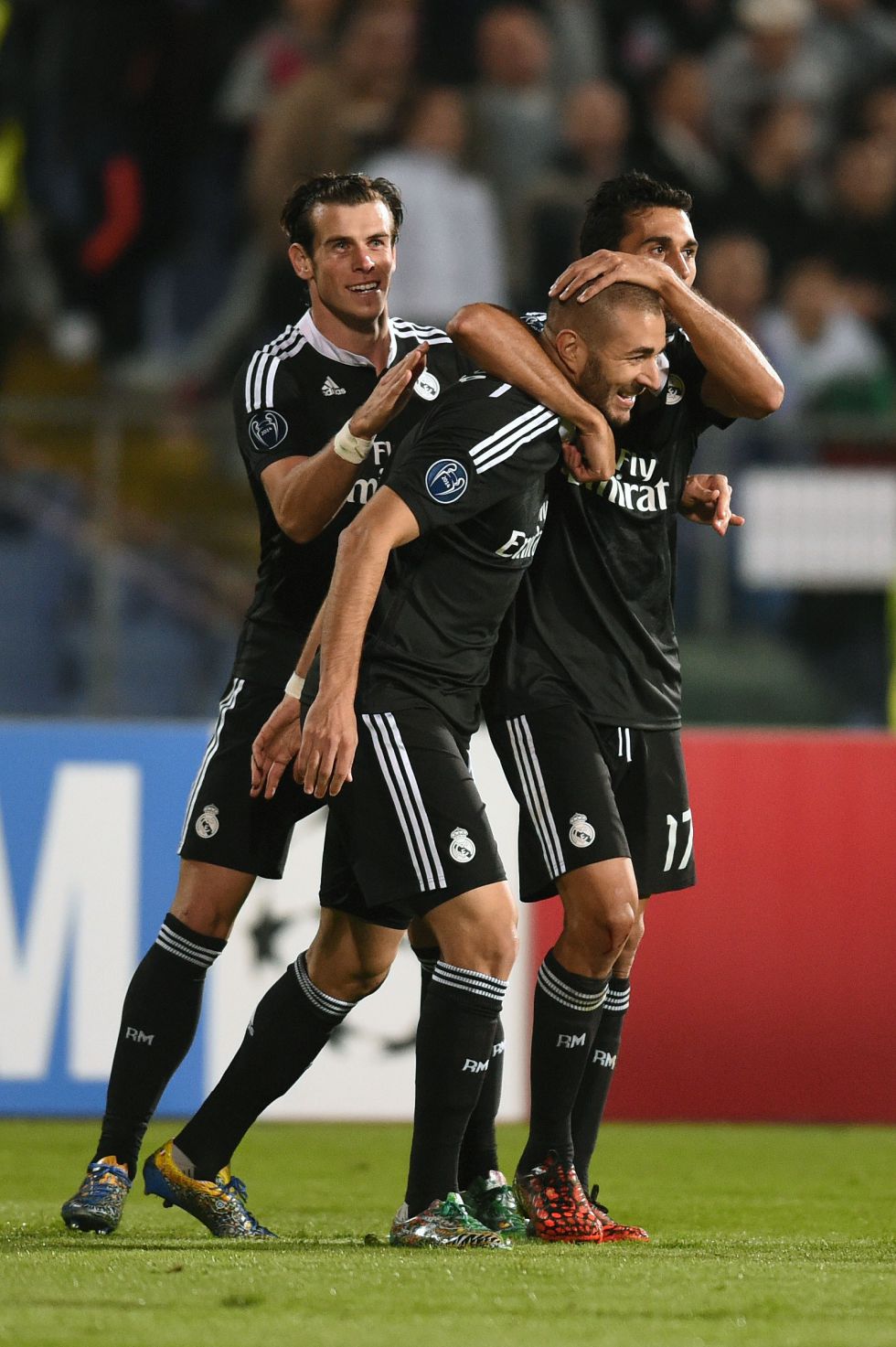 User(s) browsing this thread: 1 Guest(s)